Margarita's concept originated from Mexico; it is a cocktail consisting of tequila, orange liquor, and lime juice with sprinkled salt on the rims of the glass. Margarita is served shaken with ice (on the rocks), blended with ice (frozen margarita), or without ice (straight up). The tradition of serving Margarita in an eponymous margarita glass is used almost everywhere, but they are served in wine glasses or pint glasses. When served straight up or on the rocks, the margarita is one of the most loved cocktails of all time. And for a good reason! It will cool you down on a hot day or warm you up on a fantastic day. Any day is a good day for a margarita.
What are the Different Variation of Margarita Cocktail?
Margarita is like onions or cocktails, can go with almost anything. General ingredients required for a margarita are:
One tablespoon kosher salt
1 ½ fluid ounces tequila
One fluid ounce orange-flavoured liqueur
½ fluid ounce lime juice
1 cup ice
One lime wheel
The Different Types of Margarita-
1. Cranberry Margarita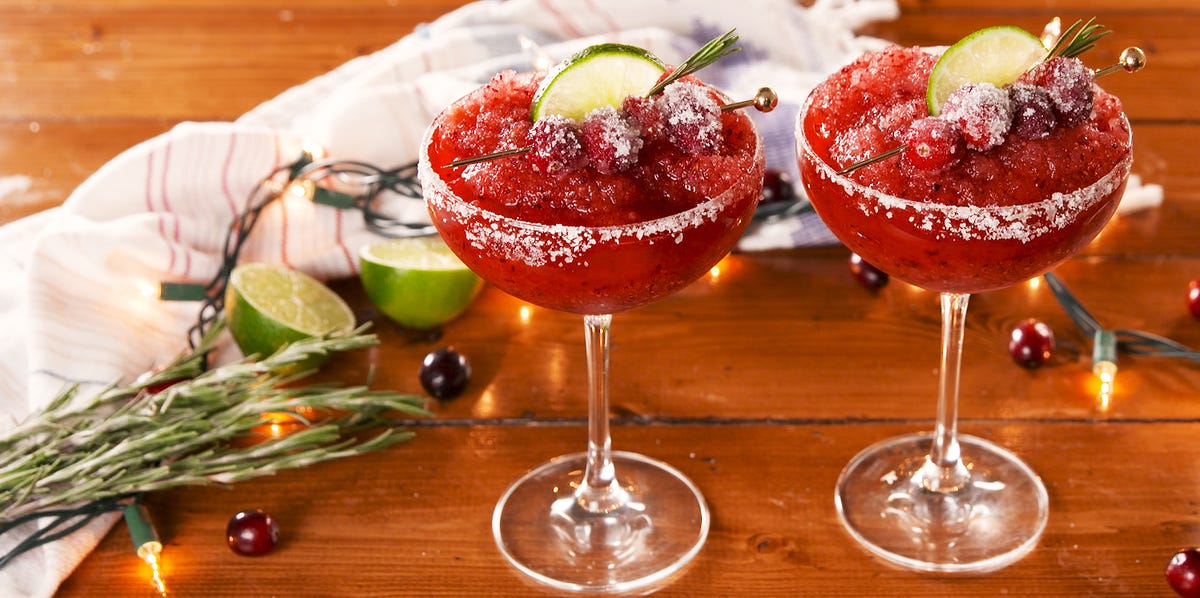 Apple cinnamon tequila, triple sec, cranberry juice, fresh lime juice, and an apple wedge or lemon twist at the edge of your glass combines to form the Cranberry Margarita With Apple-Cinnamon Tequila, a fall seasonal drink.
2. Frozen Margarita
The frozen margarita is a margarita served as an ice slush, similar to other tropical-inspired frozen mixed drinks like the hurricane or pina colada. The ingredients can be processed with ice in a kitchen blender, or for larger output, a slush or soft-serve ice cream machine is used: a cooled, horizontal cylinder has a rotating impeller which churns the mix so it will not freeze solid, and the thick half-frozen slush is dispensed from a spout. 
3. Sodas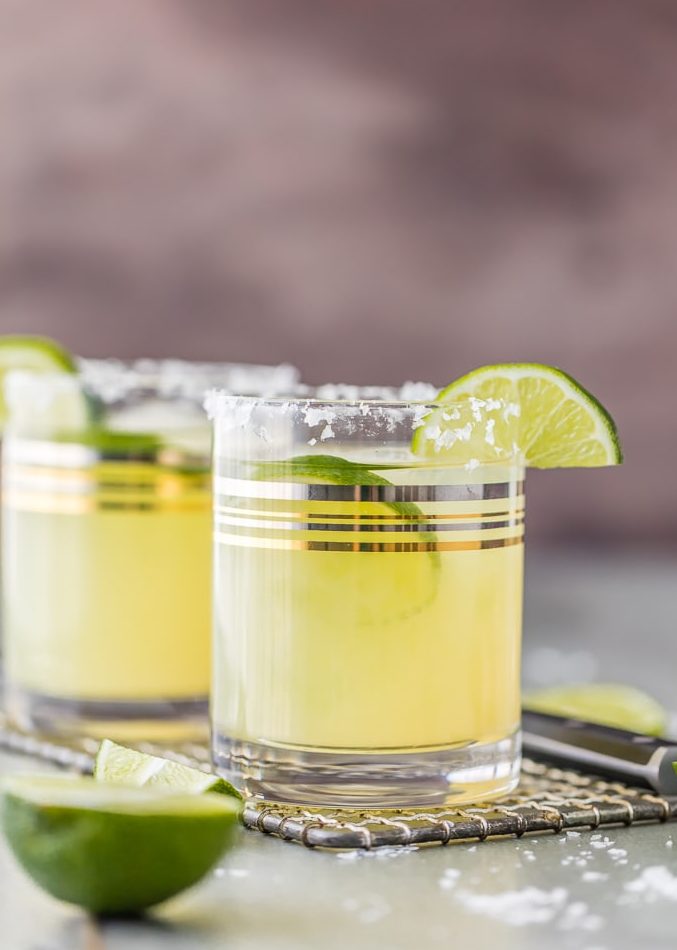 A margarita made with orange soda and beer is called a sunrise beer margarita; if it is made with carbonated fruit punch soda, it is called a sunset margarita. The variant that uses grapefruit soda is called a Paloma.
4. Fruit mixture Margarita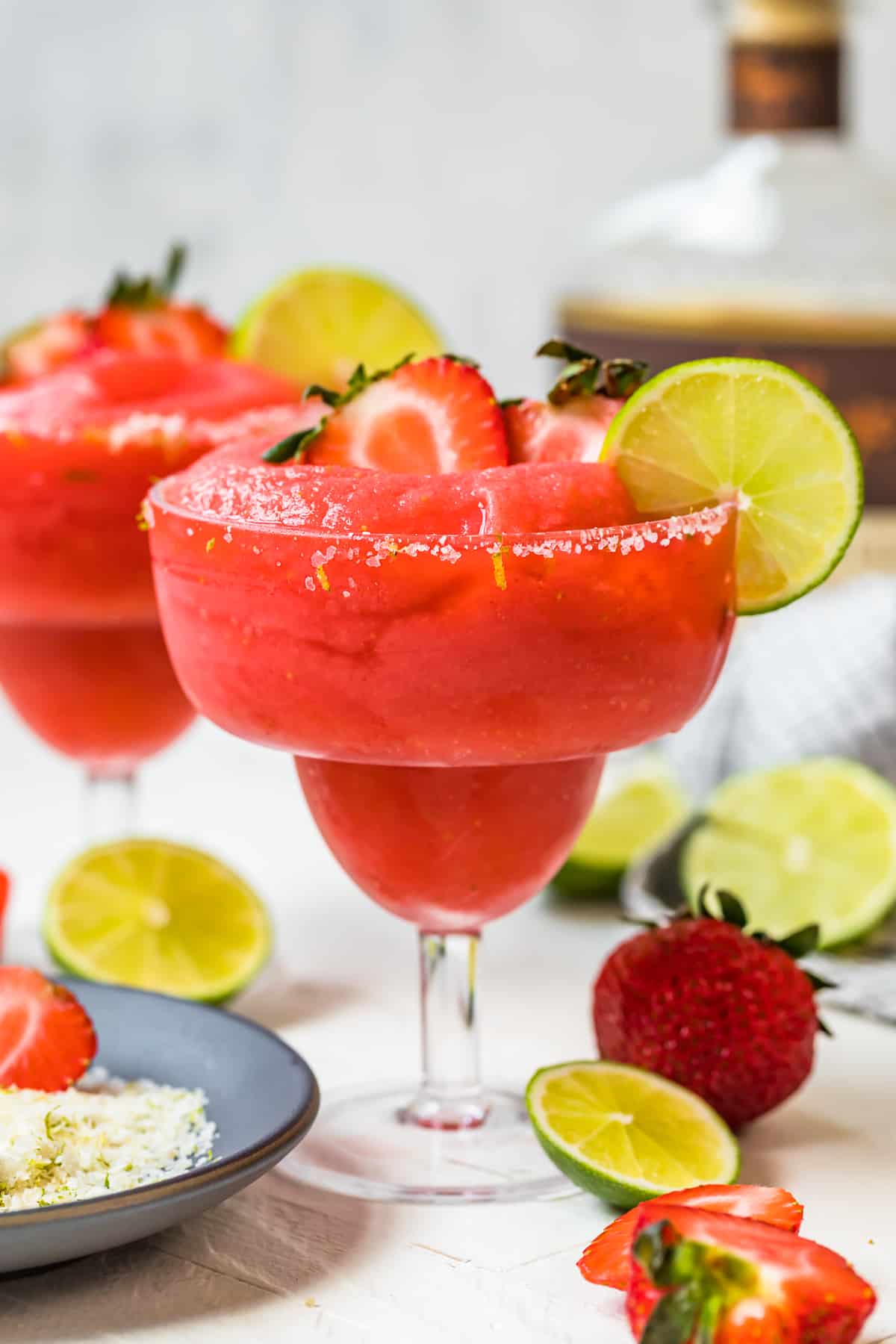 Fruits like mango, peach, strawberry, banana, watermelon, avocado, etc., are numerous fruits used to make margaritas. Orange and pomegranate juice can make a sunset margarita. These days, margarita can be prepared in different ways. When the word "margarita" is used, it typically refers to the lime or lemon juice margarita. When other juices are used, the fruits are typically added as adjectives in the name, with lime juice or lemon juice added to give it a characteristic margarita flavour. 
What are the Basics?
Sprinkle salt on a plate. Lightly wet the rims of a cocktail glass or margarita glass with a damp paper towel. Dip the moistened rim in salt to coat so that the salt gets stuck to the glass's rims. 
Combine tequila, orange-flavoured brandy or any other fruit juice you like, and lime juice in a cocktail shaker. Add ice and shake until it gets chilled. Pour it into a salt-rimmed cocktail glass or a salt-rimmed and ice-filled margarita glass. 
Garnish the rim of your glass with a lime wheel. 
Nutritional facts of Margarita Cocktail
For one cocktail of a Margarita – 
Calories – 168 
Fat – 0.08gm
Saturated fat – 0.015gm
Cholesterol – 0
Sodium – 295gm
Carbohydrate – 10.67gm
Fiber – 0.1gm
Sugar – 9.82gm
Protein – 0.05gm
Calcium – 2mg
Iron – 0.06mg
Potassium – 15mg
Vitamin C – 1mg
The Essential Health Benefits
One of the best sources of vitamin C. One glass of margarita is enough to fulfil your daily intake of vitamin C. It may also help you with your morning hangovers after a fun-filled night. 
It is gluten-free. 
Improves your digestive system.
If you want to lose weight, a margarita is also a perfect option. 
Decreases LDL or insufficient cholesterol level from your blood vessels.  
Prevents diabetes type-2.
Good for your heart
Avoids Dementia 
Helps for better calcium absorption in your body
Helps with reducing hangovers
We hope this information on Margarita will force you to go for it as soon as possible. Just make sure to go for quality rather than quantity when drinking any margarita. And if you are making it at home, then use proper ingredients in the proper amount. From the list of health benefits of Margaritas mentioned above in this article, indeed it is not a harmful habit to at least have a glass of Margarita once or twice a week, because all you need in life is a happy and healthy life, and a glass of Margarita indeed provides you with both.