You both fell in love; it was paradise on Earth. Everything seemed perfect, colours seemed brighter, the music sounded sweeter, you felt loved and cared for until… you feel that he is no longer in love with you. 
You are left feeling confused and disheartened. You start questioning whether everything that happened was a lie. You wonder if you did something wrong or something has happened that you are unaware of. 
You even ask him what is wrong, but he seems to put off the topic without giving you a valid reason. Here we tell you the reasons why men pull away when falling in love.
Why do Guys pull away when they are falling in love?
1. He Badly Misses his
Freedom

!

When you fall in love with someone, you automatically become answerable to them to some extent and degree.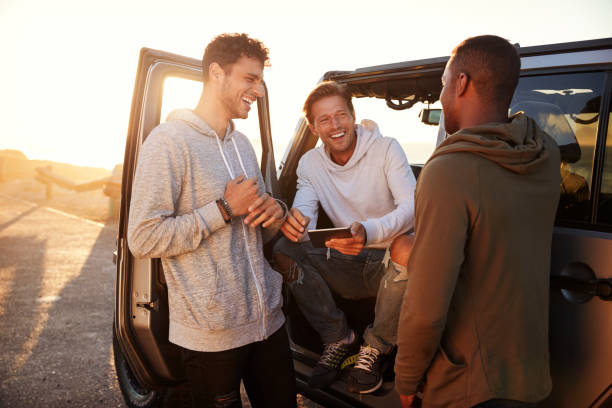 Men might pull away while falling in love because he feels they no longer can go around doing just anything he wants. 
Men might feel they have a certain sense of responsibility for their actions as they are with you now. 
He cannot just go around hopping bars, getting drunk and wasted and speaking to random girls without telling you all about it.
He has to make sure you know what he is upto, which makes him feel a bit suffocated in the relationship. 
Men pull away because they crave that freedom to go with the flow without worrying about letting you know about his whereabouts.
2. For Him Things seems to move very
Fast

!

Another reason why men might pull away while falling in love could be because he thinks you both are too close given the time you have known each other for.
We are not saying that he might be right, he could be thinking it all wrong, but that does not mean that he won't think this way.
But if he is not used to being with someone for a while, he is also not used to sharing his life. 
This would make him feel that maybe you are becoming a part of his routine, friends, family and future much faster than he had planned.
Men pull away when falling in love if they do not have thought of the future very well. Be it their career or goals. A relationship turning serious could make them feel lost. 
3. He is in a
Dilemma

whether that Girl is the One!

Men could pull away after being in a relationship with you if they realize that you are not what they would want as a life partner. 
In the beginning, there might have been sparks between you two, but as that rush fades, it comes down to compatibility, personality and thinking. 
Men pull away if they feel you are not of the same temperament when falling in love and losing their feelings for you.
He might be looking for someone who shares the same interests, likes and dislikes as him, which is poles apart from yours.
Men pull away if they feel there are no more common topics left for you to speak of, and spending the rest of your lives with nothing common would be a bummer. 
4. He Cannot give full
Focus

to the Relationship!

People assume that once you come into a relationship, your work is done when, in reality, falling in love requires a lot more effort than known to us.
Men might not have the time or energy to invest in a relationship at the moment, which could be why they pull away.
Men pull away if they feel the relationship requires way too much sacrifice or giving up on their own needs and accomplishments.
He might want to focus on other aspects of his life like career, physical fitness, health, and the relationship feels too much a task.
He might be falling in love with you, but he might not be able to sacrifice other parts of his life for the sake of the relationship.
5. He has Phobia in
Committing

!

Each of us has some unresolved issues, which may result from some childhood events or trauma.
Some men pull away while falling in love because he has certain experiences related to a relationship that terrorizes them.
He might have witnessed a failed relationship with his parents while growing up, which has affected his perspective towards love and relationship.
He might have been the victim of a toxic relationship in the past which has scarred him for any future commitments, no matter how much he genuinely likes you.
He might be scared of going through the traumatizing chain of events once again in his life. 
6. He already has someone
Better

in his Life!

In no way do we mean to say you are less than anyone else, but that does not mean he does not find someone more appealing than you.
Men pull away while falling in love if they stumble across someone who makes them feel things they could not.
He wants to go ahead with what is best for both of you because if he no longer likes you, stretching a useless relationship would be of no use. 
Being in a relationship and still finding someone else romantically appealing is the wrong thing to do. 
But men are no saints, and sometimes neither are we. He might not be able to ignore the fact that something is lacking in your relationship, which he found somewhere else.
These could be some of the reasons why men pull away while falling in love. In such a situation, the best thing to do would be to communicate with him. Let him know that you feel he is pulling away from you and straight away ask if something is going on in his life.  
Love is a Magical Experience and we would like to recommend you that do things that justify your love for your Partner. Things can get easier if it is coming straight from the Heart!