Keeping all the puns about cooking up some delicious love in the kitchen aside, kitchen sex has been considered a place where most couples have sex (of course, after the bedroom), and you should too if you haven't tried it yet.
The kitchen does come under the list of places you should get down and dirty. It adds a feel of danger with literally fire and other sharp objects present around you; it is not your bedroom, so comfort is not instantly available (which is not a bad thing as it adds a thrill to the process); it is a domestic space where you spend a lot of your time so why not and last but not the least who does not want to have a good quickie on those countertops (nobody).
Many couples from around the world think about having sex in the kitchen, but they either keep second-guessing their decision or are not exactly sure how to do it. Even though the kitchen is one of the best places to get it spontaneously, you will still need some tips on things you need to keep in mind. 
All this being said, keeping your safety and pleasure in mind, here are a few tips that will come in handy to make your sexcapades by your food a lot more smooth and enjoyable. 
Ways you can turn things Hot between you and your lover with a Kitchen Sex!
1. Countertops Open up new Ways and Positions!
Countertops will offer you one of the best sex of your life. You are bending your partner over the countertop, which is at the ideal height for doggy style. The counters and the cabinets are not precisely the comfortable kind, so make sure you are not too enthusiastic and pump up too hard, which will end up hurting your partner. 
You can have your partner bent on their stomach or their back for some spicy sexual experience. If you want to take it a little longer, you can also switch to oral sex with either your partner going down or you; this will make it even more memorable and make you giggle every time you're reminded of countertops. 
2. While Having Kitchen Sex keep in mind the different Tools and Make use of them!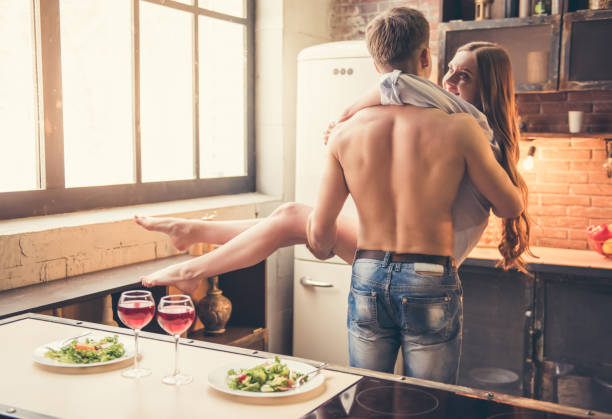 The kitchen also invites you to use some useful tools which are readily available in your kitchen. Tools such as a spatula can do wonders during sex. If your partner is up for some good spanking game, then a spatula is a great tool to use while letting your partner know who's in charge. 
Ice cubes will act an excellent temperature change during sex, which will, in turn, be a fantastic turn on for both you and your partner. The ice cube melting on the turned on hot body of your partner and the ice water trickling down their abdomen, back, or neck will be pretty arousing during the foreplay. You should try this out. 
3. Food can act as your Foreplay and as a Aphrodisiac
Sweet sauces like chocolate or caramel sauce or blueberry or strawberry syrup will make your treat even more adorable and sticky for you to enjoy. You can play with these as much as you want, as you can put them on your partner and then lick it off them or vice versa.
Messy is not always a bad thing, and if messy, hot, sticky sex is something you have not tried yet, then this is your chance.
4. While having Kitchen Sex, play with the Timer of the Oven!
Sex inside a period will, without fail, always have a specific excitement about it. In this way, on the off chance that you and your partner are in between your food preparation and decide to have a quickie of a boning sesh while at the same time something's in the oven. Set your clock, and check whether you can get off before the dish is finished. (Special reward: your kitchen will smell fabulous).
You will also learn about things that will make your partner reach the crescendo swiftly; just make sure that it is pleasurable for both of you. 
Few Safety Tips before you engage in Kitchen Sex!
1. Keep an Eye on the Hot Utensils so that you don't get Burns!
Your kitchen can be filled with aroma if you are getting it on while cooking while also leading to hazardous situations. The inspiring session can pretty quickly turn into an event that leads either you or your partner to the ER. 
Maintain a proper distance with burning hot things while getting them on in the kitchen. Also, turn off the stove in time so that you are not interrupted by the loud, obnoxious ringing of the smoke alarm in your house. It will destroy not only your and your partner's arousal but also the food you were cooking.
2. Don't engage in the Act while handling something Spicy or Infectious!
If you are working with spices or spicy sauce or something, remember to wash your hand thoroughly and even under your nails as it can cause burns or rashes on sensitive areas. This is not what you should look forward to if you try to "spice up your sexy times." 
Even when cooking with hot oil and thinking of doing it beside the stove can put you and your partner under the danger of burning either of you with the oil, it is advised to avoid doing it when cooking with things that are not favorable kitchen sex.
3. Kitchen Sex can turn to a Nightmare if there is Knife or Blades in the Surrounding!
Knives, all kitchen has blades which is not an excellent object for sex. Kitchen sex is usually spontaneous, but we should not forget our priority which is not hurting the other person or perhaps our selves. 
Lack of sensible planning can seriously hurt someone. So it is pretty important to avoid these nuisances by maintaining a proper distance from all the objects which might accidentally hurt you or your partner. 
4. Dont Slip off from the Wet things in the Kitchen.
As I mentioned before, you might be using ice and other slippery, sticky things around the kitchen to make your experience even more memorable. Spilling these can put you and your partner in danger of slipping and hurting yourself in the kitchen. 

Why put yourself in any danger when you are making great memories with your partner. Instead, avoid such nuisances from interrupting your exciting and sexy quickie in the kitchen. 

Keeping all these in mind, you can spice up your sex life in the correct way and have a fantastic experience that makes you and your partner smirk the next time you are in the kitchen together. Let us know if you tried out any of the things we suggested and how your experience was. We are eager to know about it and a lot more. Let us know if there are any other Safety measures to take! We believe in you. Cheers!

" "