The very name gives us a question mark. What does it mean? A blazer that is not structured! Does a piece of cloth have to be structured? Absolutely. It is one of the most trending and semi-formal suits that can suit anyone.
The Idea of Unstructured Blazer!
It is somewhat what it sounds like. It's soft and deconstructed, with no padding. It has no fusing, little to no canvass, no lining, which insulates the blazer making it warmer, except for the sleeve. The importance of a canvas is to provide you with a good shape providing a physical weight to the body since this kind of suit does not have any gives you a more casual layering weight smart look.
This has the appearance of a cardigan but more of a Suit. This is why it is also referred to as a cardigan jacket. It is ideal for summer, light-weighted, unlike a typical suit, breathable. The best part is that it can be folded with a minimum wrinkle. It is probably the 21st century's greatest wardrobe essential. It is usually made from cotton, linen or any lightweight blended fabric. It needs little care, unlike a suitor blazer. And it acts as one of the best travel companions.
How to Style Unstructured Blazer in the Correct Way?
Unstructured blazer is the most casual type of all and loved by all. One can choose to elevate his style without looking too formal or overdressed. An unstructured blazer can be accompanied by jeans or chinos, or even shorts, and it can give you a formal but most casual stylish look possible. Its versatility can let you wear it on almost any occasion you like, whether a traditional wedding or social or a club party.
 Whatever you wear, a jacket or suit, fit is everything. But when it comes to an unconstructed blazer, you can wear it a little loose, but still, it will give you a stylish smart casual look. Best way to look, wearing this blazer that fits close to your body shape but loose enough to allow for layering.
The amalgamation of casual lifestyle and yearning for professionalism has led to new tailoring, i.e. unstructured blazer. The beauty is that it can be worn as an alternative to purely formal blazers or your jackets because of its features.
Want to go to the office in your utmost comfortable dress but wanna look formal at the same time. Go for an Unstructured blazer accompanied by a chambray shirt with or without a tie. And below, you can have it matched with a pair of chinos or drawstring pants along with a couple of classic loafer or Chelsea.
  Whether a club party or wedding or a casual trip, you can always put on a casual t-shirt with an unconstructed blazer on top along with a pair of chinos or denim jeans or jumpers down below, accompanied by all in one go sneakers or converse. Simple yet classy.
     When it comes to fashions dressing styles, we already know that dressing styles are limitless, which comes with unlimited colours and design.
Events where you can Easily Show off your Unstructured Blazers!
1. Wear it for
Casual

Days! 
As previously mentioned, an unstructured blazer is one of the casuals of all looks, even with its formal styles. You can wear it to birthday parties, wedding, casual day trip or on a date. Make sure to team the colour of your attire with the occasion you are going to attend. Like if you are going out on a single day trip or some get together with family or friends or even cousins, try to put it on over a lightweight sweatshirt or crew neck t-shirt with a pair of jeans and sneakers.
2. Look
Ravishing

by Complementing it with Turtle Neck T-Shirts!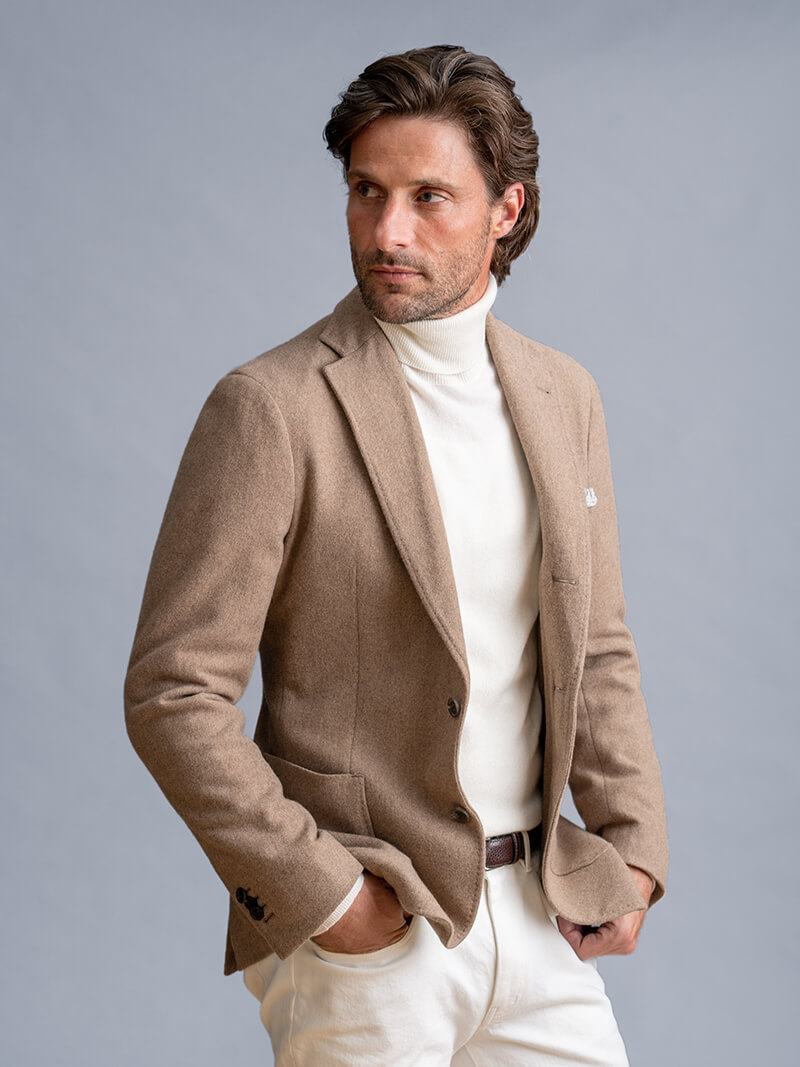 This is the kind of look every girl likes to see in their man. One can wear this blazer over a plain shirt or turtle neck t-shirt tucked under flat front pants or chinos accompanied by a pair of oxford or derby or monk strap shoes. If you are going with a plain shirt, you may or may not attend it with the tie.
3. Go for
Smart Casual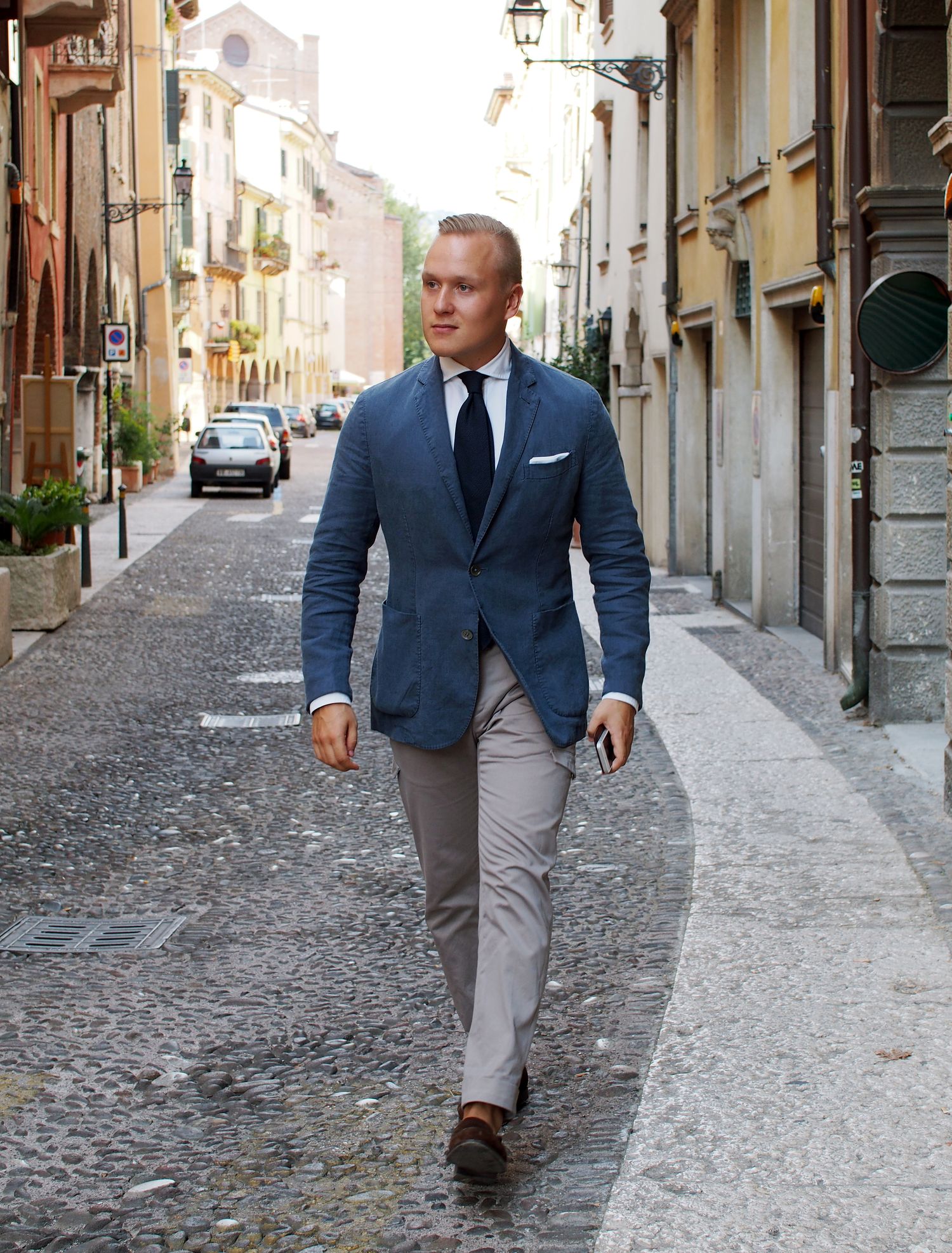 It is one of the most desired looks of all. It is midway between a smart and casual look. You want to look stylish but also remain casual at the same time. Similar to an elegant look, you can wear a plain shirt with a tie hanging loose. Keep the shirt untucked and team it with a pair of chinos and premium sneakers. There you go with a smart but still casual look, perfect for attending any friend's marriage ceremony or club party.
Now you know how to compliment the Blazer at different Events. Go for these quirky outfits and Shine like no one else!