Just like the hair on your head, your beard hair also requires maintenance and care. This is where beard oils come in handy. These nifty grooming products help reduce itching and dandruff, leaving the hair smooth, silky, and neatly kept. By moisturizing and conditioning the hairs, also makes them even easier to style.
Applying beard oil is a relatively simple process. That said, there are some things to keep in mind, especially if you're a beginner to beard oil or grooming in general. In this Academy article, we'll teach you how to apply beard oil in 4 easy steps correctly.
Here are Few Pro Tips for Applying Beard Oil!
1. Start with a Clean Beard.
Your beard should be clean, towel-dried but still slightly damp from water or after a shower (but not too wet, or the beard oil won't stick). Begin by applying a few drops into the palm of your hand. We recommend around 3-6 drops, depending on the length of your beard. If you're a beginner, less is more, and as you familiarise yourself with the process, you'll eventually get a good idea of how much you need.
 2. Apply the Oil to the Skin First!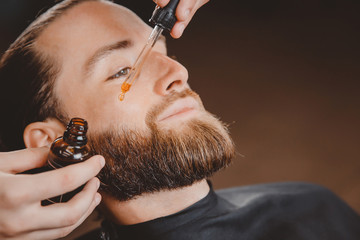 Rub your hands together to spread the product evenly, then run them through the beard. First, you want to press the beard oil into the skin to ensure it moisturizes your beard's roots and the skin surrounding it.
 3. Gradually move towards the Beard.
Once you've applied to the roots and skin, start applying directly to the beard. Start with the beard's sides and work your way down by moving your hands in a downward swipe motion. Brush your hands down the front in the same downward swipe motion. Then brush your hands upwards from the neck to get the bottom of the beard too.
 4. Finish the Process by Combing your Beard.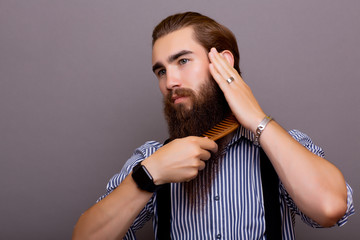 If you have a mustache, use your pointer fingers and swipe them down the front a few times. To finish, use a comb to continue evenly distributing the product across the board until soft and conditioned.
What are the Benefits of Applying Beard Oil?
Beard oils have a slew of benefits, including (but not limited to):
Reducing itchiness by moisturizing the hairs
Preventing dandruff by moisturizing the skin beneath the beard hair
It keeps the beard looking healthy and neatly kept
Most, if not all, beard oils have a pleasant scent to make your grooming routine extra enjoyable
What happens to be the Perfect Timing?
The best time to apply beard oil is straight after a shower. This is because your beard is immaculate, and your pores have opened up from the steam, making for easier absorption of the product. You should rub the beard oil into your hand and then massage the beard accordingly. If you have a denser beard, comb through it to ensure the beard oil reaches every strand and roots of the hair, which will thoroughly moisturize your skin.
Do this every day in the morning, and your beard will start feeling soft. If you want to lose the flaky beard and start feeling fresh, you should use beard oil. If you are tired of scruffs, you can moisturize their beards accordingly and remove any fly-away hairs as well as remove flakes. 
The amount of beard oil that you need to use isn't fixed; it depends on the length or the thickness of your facial hair; you should choose a suitable amount accordingly. If you are afraid of exposing your beard to any of the market's facial hair products, you should stop immediately. If you use any of the beard oil products, you are guaranteed the softest beard for as long as you are correctly using them.
I hope this article will help you with the usage of beard oil. It isn't a tough job, but you need to be consistent with your beard routine. If you don't follow it, your beard will suffer a lot. So be very careful if you don't want to ruin your beard. Let us know how you like to maintain your Beard and how do you take care of your Beard? We are hearing you as always.