Tom Hardy is a known English actor and producer and is most recognizable for his fashion sense and beard styles. Tom Hardy has always been an inspiration for men around the globe. He is known for his rugged masculine looks and is an idol for many beard fans.
Aside from being an outstanding actor and working through iconic roles, he is most famous for his beard styles. His rebellious beard style justifies his bad-boy character in Hollywood. And it is this facial hair that helps him to complement any of the elegant hairstyles styled for only Tom Hardy.
Top Tom Hardy Beard Styles You Should Definitely Try
Tom Hardy's beard is nearly an accomplishment in the eyes of many beardsmen who adore and imitate Tom hardy's beard style. The beard styles might seem classy and non-achievable by the average male, but with a little time, effort, and grooming, anyone can pull them off. We have discussed our favourite and best Tom hardy beard styles for you to try.
Goatee and Short Beard
Tom Hardy's Goatee and short beard style are liked by many. He wears his various goatee versions along with a thick mustache. The goatee is faded from manicured to bold style, and the sides range from sparse to a full beard. He often complements it with a shorter beard which furthers his already strong jawline.
Bushy Beard
Tom Hardy's bushy beard style has been a strong craze. The beard and mustache have an unruly but sophisticated look along with the slicked-back hairstyle. It is an effortless and sexy, rugged look.
Well-Groomed Allure
The well-groomed Allure is a medley tom hardy's beard style which is neither too much nor too little in terms of facial hair. It features a discrete goatee and a finely trimmed side with a short length of hair. The hairstyle paired is slightly slicked back.
Shaggy Beard
Another masculine and rough look is Tom Hardy's shaggy beard style. The scrawny and rugged look makes it look like Tom has just returned from a wild trip. The facial hair is unkempt and longer in the head, which covers the chin. For this look, the actor has his head shaved which adds to his styling.
Also Read: The Drake Haircut: How to get Drake's Haircut? | Men's Hairstyles 2022
Designer Stubble
The designer stubble is another sexy-looking tom hardy beard style. This look says you are too busy tending important events or too cool to care for using a razor. The subtle beard appears to be shaved with precise lines, and it radiates his manliness. The facial hair length is kept short.
Youthful and Scruffy
Tom Hardy once was an emerging beard guru with playful scruffy facial hair. This Tom Hardy beard style is from when he was younger and fresh. The beard style is stubble and is at its finest. Essentially looking like a Hollywood bad boy with a cheeky grin and a tousled top.
Full Beard
The full beard is one of the most appreciated Tom Hardy beard styles. The facial hair is kept medium length and casually groomed. It is basically a go-to look for red carpet events or cover shoots for magazines. The slicked-back hairstyle adds to the look.
Baby Face
You probably cannot imagine Tom Hardy without a beard now. But there was a time where he blessed us with a baby face look. You can bring out your young and reckless side by copying his subtle bristles and shaved styling.
Prominent Goatee
This Tom Hardy beard style is a twist to his most iconic beard style. For the prominent goatee, you need your sides trimmed down and leaving just enough jawline. This Tom Hardy goatee needs the hair on the chin and the mustache to be rugged and bushy. Also, the styling of the head is done by the hair on the sides of his head next to bald.
The 5 o'clock Shadow
This beard style of Tom Hardy is flawless and complements his layered, topped-around top. Like the designer stubble, the 5 o'clock shadow beard style of tom hardy makes him red-carpet-ready in minutes. This is the best look if you don't want to invest much n excessive grooming.
Circle Beard
This Tom Hardy bard style is for you if you have an angular face shape and can pull off a circle beard. For this look, Tom Hardy has his beard and mustache bushy and thick. The rest of the hair is shaved clean, which brings out the circle beard.
Extra Thick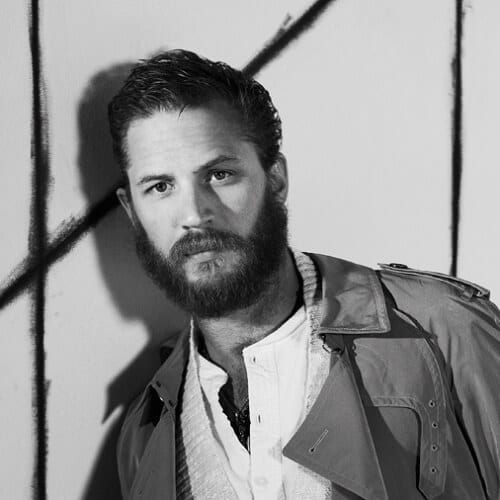 The Extra thick full beard is for you if you have the don't-really-care mindset. The length of the facial hair is kept long, which results in a bushy, unkempt beard. A little bit of grooming, and you have this extra-thick bushy beard look.
Moustache and Stubble
Sometimes you got to shift to the full mustache instead of the full beard look—this Tom Hardy style emphasis the mustache more, keeping it long and groomed. The chin and sides are mixed by adding stubble. This contributes to a modern look flattering any face shape.
Rounded Ducktail
Rounded Ducktail is one of the best Tom Hardy beards. Just by adding an inch longer beard on the chin, you can level up the whole appearance. Instead of the full beard, only the chin and mustache are kept full and unkempt. The mustache fades into with the stubble on the side. If you have a small forehead or a round face, then this ducktail balances out your features.
Asymmetrical Beard
In Asymmetrical beard style, tom looks like an artsy, edgy, or hipster personality. For this style, Tom has his hair thick on his head and chin. The mustache is also kept thick and unkempt overall.
How to Grow a Tom Hardy Beard
From all the different beard styles across the range of Tom Hardy celebrity beards, choose the one that suits the shape of your face and your personality. Follow these steps to get a Tom-Hardy-like beard:
Grow enough facial hair for your chosen style, preferably short, where the mustache and the thick goatee can be significantly highlighted.
The beard hair should fade as it reaches the cheeks to get that classic and regal look.
You can change the styling of the hair by grizzling the facial hair or trimming, or even styling it into a stubble.
To style the beard, you need the right tools like a beard comb, beard oil, a beard balm, and a pair of trimmers.
You can get a professional barber to work upon your Tom Hardy beard style.
How to Groom a Tom Hardy Beard
You can always refer to some picture of Tom hardy with the bead style which you fascinate. You should leave the mustache and goatee thicker and trim your beard short or add stubble to the mix. The beard needs to fade into the cheeks. You can outgrow your facial hair for a grizzlier look and then trim to accentuate the goatee. This beard style is easy to switch up over to keep things fresh and is really versatile.
You would also want o get your tools ready for grooming a beard like Tom Hardy's. Some should have tools include a beard trimmer, a beard comb, beard oil, moisturizer, and beard balm, which keeps your beard manageable, soft, and luxurious. Using these tools will help you achieve a sexier, more manly look easily.
Conclusion
Tom Hardy beards are always top trending and in the hype. Whichever of the hairstyles or beards you choose, you cannot go wrong. Tom has every time made a statement by his looks. He has come to epitome the masculine beard and embraces the rebellious persona.
With proper time and effort, and careful grooming, you can also achieve a tom Hardy beard and rock your hairstyles by complementing them with different beards.