A fuzzy navel is a mixed drink made from peach schnapps and orange juice. "Fuzzy" in the name refers to the peach and "navel" to the orange. It can also be made with lemonade or a splash of vodka, depending on your taste.
The Origin of Fuzzy Navel Cocktail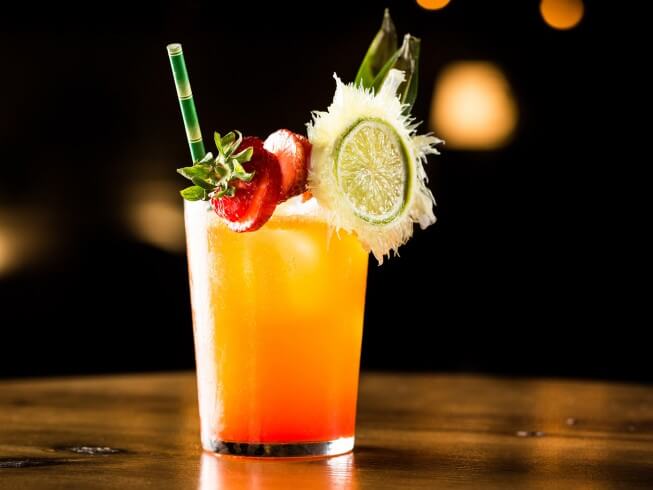 The fuzzy navel was one of the first drinks to arise in the recent popularity of cocktails and mixed drinks in the 1980s. The drink was invented 30 years ago by a bartender named Ray Foley, and the founder of Bartender magazine. According to the story, it is said that Ray was cutting an orange for a garnish when a man nearby remarked that he could still smell the fuzz of the peach schnapps through the orange juice. Ray looked at the orange and saw the printed word "Navel" for navel orange. Thus the cocktail was named so.
What are the Ingredients Required?
Three fluid ounces peach schnapps
Three fluid ounces orange juice
½ cup ice
One orange slice for garnish
Fuzzy Navel Cocktail Recipe in Short!
First, fill a highball glass with ice; most fuzzy navel glasses are tall, skinny highball glass as a mark of tradition. If you don't have one, no worries, you can use anything from a basic tumbler to a plastic cup. Instead, anything will do.
Pour two fl. oz of peach schnapps; It can be found relatively cheap at a liquor store or in the alcohol aisle of grocery stores; some more giant shot glasses hold two fl. oz. with a measuring line at the 1 1/2 fl. oz. Mark.
Fill the rest with orange juice, pour orange juice over the ice until the glass is full.
Shake the mixture well with the ice cubes and pour it via a strainer so that ice does not mix with them, use a filter only if you don't like ice in your drink. Otherwise, you can directly pour it into a glass.
Congratulations!!!!!!!……you have made your first ever Navel drink.  
Some Great Variations you Must Try!
Add vodka for a hairy navel.
Add high-proof vodka for a pierced navel.
Add dark rum for a tan navel.
Add amaretto for an innie.
Substitute cranberry juice and citrus vodka for an outie.
Add Lemon juice for a Sour Navel
Add Cream for a Pale Navel
Add Grenadine for a Sunburnt Navel
Add Blue Curaçao for a Seasick Navel
Add Champagne for a Bubbly Navel
Add Bourbon for a Caramel Navel
A navel drink is something you can make by adding anything with the regular recipe, it's a very versatile drink; you can even change the taste by adding ingredients according to your wish. This article exposes you to the basic requirements for making a Fuzzy navel drink. 
Let us know your experience with the Fuzzy Navel cocktail. We would like to get in-depth knowledge about this and more. We are always listening to you. Speak up as you always do! Until then Keep Shining!