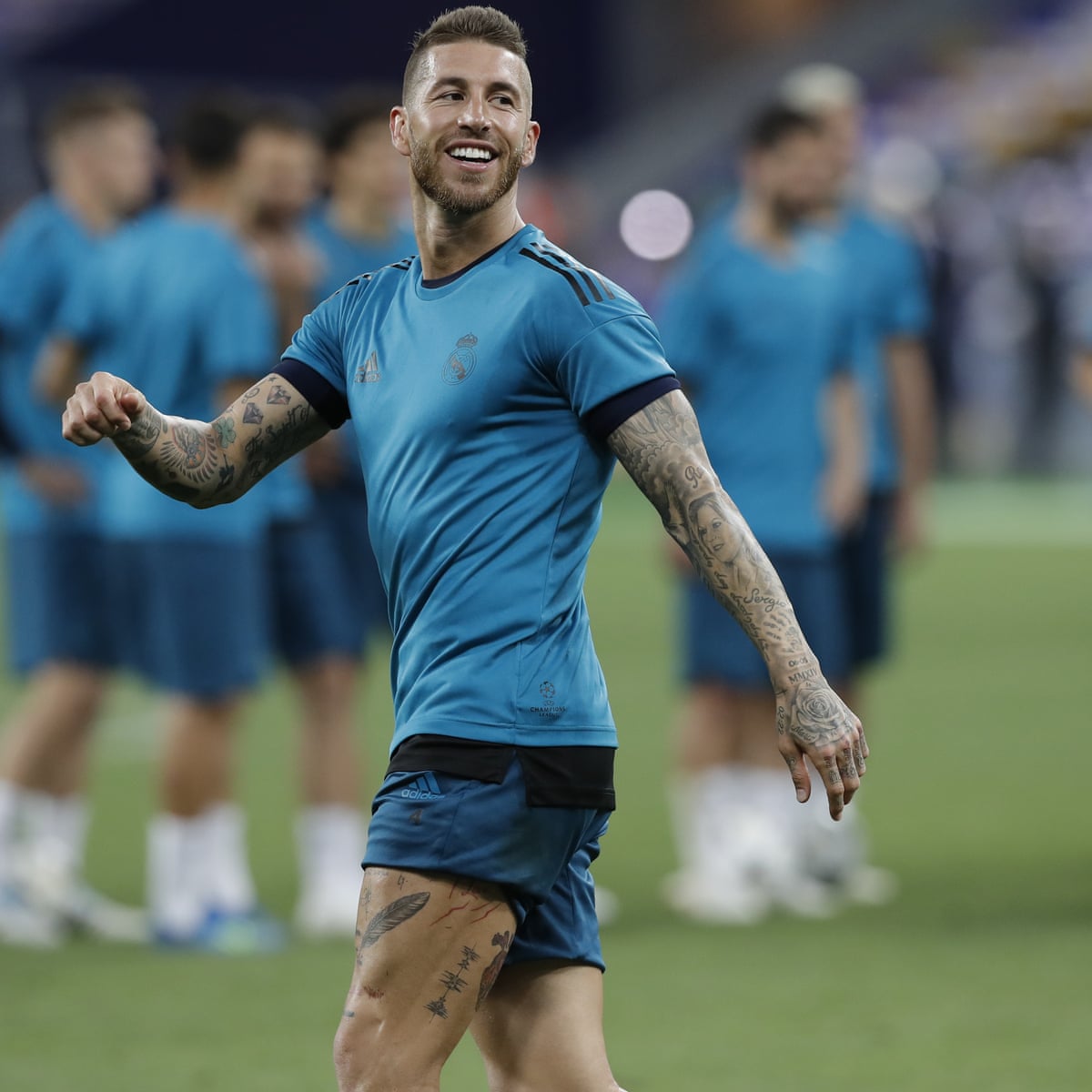 Captain of Real Madrid and Spain national team, Sergio Ramos Garcia is a Spanish football player known by many and an icon to all football lovers.
Sergio Ramos has been famous among football followers not only for his amazing defending skills in the field of football but also because of his stylish haircuts over the years. This soccer player has sported some great hairstyles throughout his career and has people swooning over his luscious hair locks.
Ramos has brown luscious hair that he has styled in many different ways: short, medium, and long. He has had a myriad of different haircuts including Pompadour, Quiff, Undercut, Buzz cut, crew cut, etc. We have compiled a list of the best Sergio Ramos haircuts/hairstyles and how you can replicate them with very little effort.
We have done the heavy lifting and compiled a list of Sergio Ramos haircuts for you and some other details related to it.
What is Sergio Ramos's haircut?
Ramos is a man of style, he has sported many haircuts till present but some of the very famous Sergio Ramos haircuts include his iconic tapered quiff, Variations of the pompadour, and a couple of others.
Sergio Ramos haircut is the list of haircuts that Sergio Ramos has had and styled throughout his life. It includes all the hairstyles he has had.
Sergio's haircuts have been distinctive and changing with his age and career, in his early days he was seen in basic haircuts and with time he started experimenting with different looks. The most common and appreciated haircuts of Sergio Ramos are quiff with variations and variations of pompadour. One thing is sure whichever hairstyle he chose has always been a hit with his admirers.
Following we'll talk about different hairstyles and haircuts Ramos has been seen in and what exactly are those haircuts and how you can get one.
Best Sergio Ramos haircuts
The tapered quiff
Sergio Ramos is associated with this particular haircut, it is a stylish and sleek hairstyle with a combination of Quiff and taper fade hairstyle. A quiff haircut is when the front hair is long enough to be curled and swept back towards your head and a tapered hairstyle is when your different length of hair blends together.
Sergio has been seen in quiff hairstyle more than twice, he has styled his hair in different versions of quiff hairstyle and has managed to look suave and sexy every time. The tapered quiff is one of those hairstyles.
Quiff is a very attractive haircut and you can get it easily with the help of a barber. All your barber needs to do is trim the hair on your sides and make your top hair swept back.
Pompadour variations
Pompadour haircuts were famous in the 2010s and Sergio was one of the people who sported this hairstyle. This haircut became a part of Ramos's haircut and it suited him well. A pompadour haircut has hair volume and length on top while the hair on the sides is short and slicked back.
The pompadour hairstyle was named after Madame de Pompadour, a mistress of King Louis XV of France. Sergio uses a technique of brushed up and back hair which is a complete genius.
To get this haircut you will need about two inches of long hair and cut in layers. You can have a pompadour haircut with variations, just ask your barber and tell him what exactly you want for your hairstyle.
The basic boyish
In the starting years of his career, Sergio Ramos supported a basic boyish haircut look, with messy and choppy ruffled locks. The basic boyish haircut is because of how the hair looks in this haircut which is unkempt but still pretty cute.
You can easily replicate this hairstyle with very little effort. You would need to grow your hair to medium length with the sides trimmed and longer hair at top and front at least till one inch. It's easy to take care of this hairstyle and will make you look younger and boyish.
Shoulder length haircut
Sergio Ramos had also been spotted in long shoulder-length hair with a middle parting. The hair in this style should be swept backward and tucked behind the ears. The hair from the front is split into two parts.
To get this hairstyle you will have to grow your hair to your shoulders or even more. After going your hair to a certain length go to your hairdresser and ask them to trim your long tresses till shoulder and as suited to your face.
You can style your long hair in multiple ways, making a man bun, ponytail or use a hairband. Make sure that you regularly shampoo your hair and keep it clean.
Businessman cut
This haircut is suitable for men of all ages as it provides a level of professionalism and a gentleman look to your personality. It's a perfect hairstyle for those who are in professional careers. Ramos looked like a perfect gentleman in this haircut and gave some classic men hairstyle goals.
To get this hairstyle the top of the head should have at least inch long hair which can be swept at the side and trimmed sides and sideburns. You could also include a flick at the front which is then brushed to a side to give a sharp and neat look.
You could also slick your top hair backward instead of at the side to get a more classic look.
Buzz cut
Buzzcut is a very short haircut and is identified by hair that is very short and close to the head often done with a razor. Buzzcut is the easiest hairstyle to manage and maintain which requires trimming and not much grooming.
A buzz cut is more suitable for men with oval faces as it will allow them to style it better and look more elegant. Even rectangle face shapes are well suited for Buzz cut hairstyles.
It's a perfect haircut for athletes like Sergio Ramos, requires little to do and no distraction during the game.
Sidecut and side-swept
The side-swept haircut makes its way from one side to the other side. The side-swept haircut requires short hair on the sides and at the back with a bit longer hair on top. The hair on the side is short-length hair and is around two millimeters long.
Ramos has been seen in this haircut many times and well it suits him.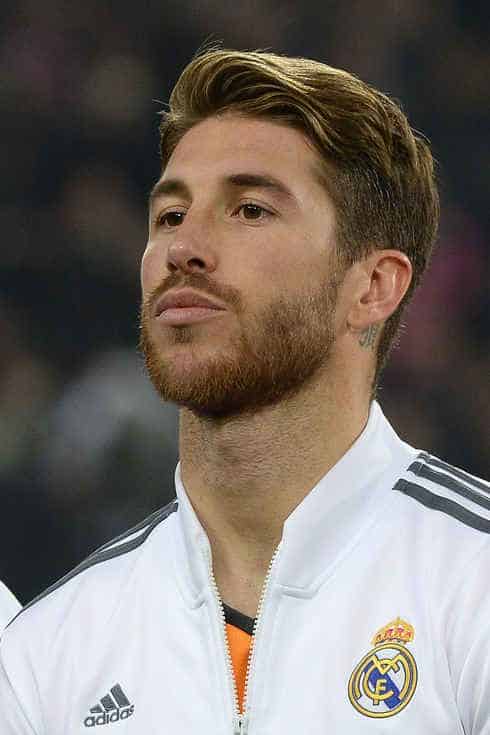 You could use hair spray or other hair products to make your hair stay in the position. Ask your barber about this haircut and choose a hair length as suited to your face cut.
Recommendation: 6 Proper Ways to Bulk Up without Gaining Fat!
Asymmetrical haircut
An asymmetrical undercut is another hairstyle well suited to Sergio ramos. In an undercut haircut, the back or sides of your hair are shaved underneath the longer hair on top, you could always make variations according to your choice just like Sergio Ramos did.
Sergio Ramos had significantly longer hair on top and parted to the side, while the undercut was in the form of a sharp skin fade or bald fade haircut with a side parting.
This haircut is comparatively difficult to maintain and get than the others mentioned. You could always show it to your hairstylist and tell him the details of haircuts mixed together. You will also need some hair products to achieve this.
Crew Cut
The crew cut is a short haircut, with the back and sides no longer than a quarter-inch, or number four which can Fade down to number one it two. Crew cuts usually have longer hair on drop than on sides but the length of hair on top must be at least an inch which can lead to number eight.
Sergio Ramos haircut includes crew cuts too. He was seen in a crew cut for the first time during a press release. Sergio Ramos had styled his crew cut with a razor line.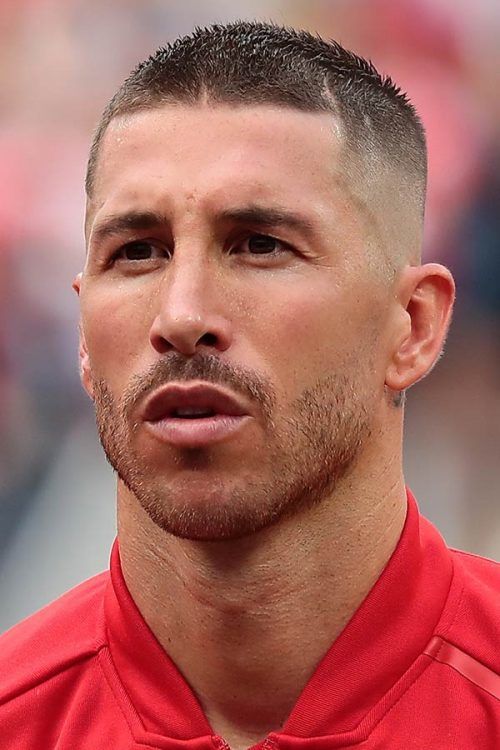 How to get Sergio Ramos haircut?
Sergio Ramos has sported a plethora of haircuts and if are one of his fans and want to look like him you can do it easily but replicating any of his hairstyles. Firstly, choose a haircut that you want for yourself and see if it suits your face shape. Next, grow your hair and visit a salon. Study about the haircut you want and discuss it with your hairdresser and tell them how you want it.
Keep in mind how to maintain the haircut once you get it and use hair products accordingly.
Some tips to take care of your hair
Get haircuts frequently to keep your hair short.
Shampoo your hair properly and maintain cleanliness regularly and condition your hair.
Eat a healthy diet to have good hair.
Use good quality hair products that suit your hair.
Always keep a comb with you and comb your hair regularly and properly.
Some other hairstyles that are included in Sergio Ramos haircut are a Feathered haircut, a Platinum-blonde hairstyle, a long and layered haircut, cornrows, Touseled hairdo, etc.
Hair products you may need
Conclusion
We can certainly call Sergio Ramos an icon for fashion and hairdos. Sergio Ramos hairstyle is famous for the right reasons, if you are looking for a change and want a stylish hairstyle we would recommend Sergio Ramos haircut for you. There are hairstyles for all kinds of hair and all lengths of hair. We have mentioned some of the best hairstyles sported by Ramos in his lifetime and how to get them, all that is left for you to do is to go to a salon and get them!
References