Having a receding hairline on one side is a disorder that most men face these days; women also face this problem but not to the extent when compared to Men. Up to an extent, it is possible to regain your natural Hairline, but you can bid farewell to your natural Hairline if it gets out of hand. hair receding on one temple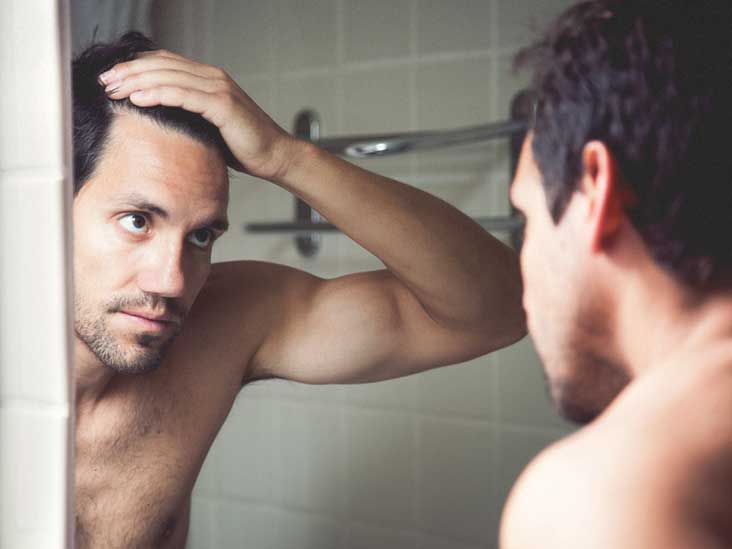 You need to know its symptoms to act accordingly so that you could avoid the receding Hairline. It is said that receding Hairline is the first step towards getting bald. Well dont Panic, cause this isn't the End of the World! Let's Solve and get you a way out now! There can be many reasons for uneven Hairline in Men! Let's See what are they!
The Major Symptoms of Receding Hairline
If you take necessary actions on time, you might be able to avoid the receding of your Hairline on one side. You first need to know the symptoms of it. Men generally start experiencing it after they cross their puberty age.
 By the time men reach their early 30's or late 20's, they already have an uneven hairline. A receding hairline generally starts from above the temples. Hair receding on one Temple can be spotted by many Men. This gives your Hairline a V shape, which is known as the "Widow's Peak." 
The sides and the back of the head can eventually become bare, though many men are usually left with some hair on the top unless they come up with the idea of shaving it all off. 
It's a bit different in Women, the sides and back are spared, but the part with less hair widens over the top of the scalp and thins the hair considerably.
What are the Probable Causes?
There are many reasons behind having a receding hairline on one side of your head, but the two main reasons behind it are-
1. It could be your Family History 
It is said that a receding hairline is a hereditary trait, with hair follicles made too sensitive by certain male hormones that we get from our ancestors. Men who have a family history of baldness are more likely to lose their hair or have a receding hairline at a very young age. The timing of hair loss is often similar from one generation to the next generation of kids. 
2. Hormonal Change may be the Reason
Abrupt changes in hormones also cause hair to fall in both Men and Women. Though in the case of women, it's not that clear as compared to Men. For instance, during menopause in women, their hair tends to become thinner, which causes hair to fall. 
Dont Worry! There are Ample Treatments!
You don't need treatment if the hair receding on one temple is due to natural Aging. You should only go for treatment for it if it is caused due to some strange reasons. There are two ways you could treat this condition,
1. Go for Proper Medications.
There is a drug known as Prednisone, which helps you suppress the overactive immune response, which results in the receding of your Hairline.
Medications like Minoxidil can also be beneficial in this case. You need to apply it to your scalp; it also has a side effect, it irritates your scalp. 
A pill named finasteride will also help you increase your hair growth rate. But it also increases the chances of having prostate cancer and could also reduce your sexual drive. 
2. Opt for Surgery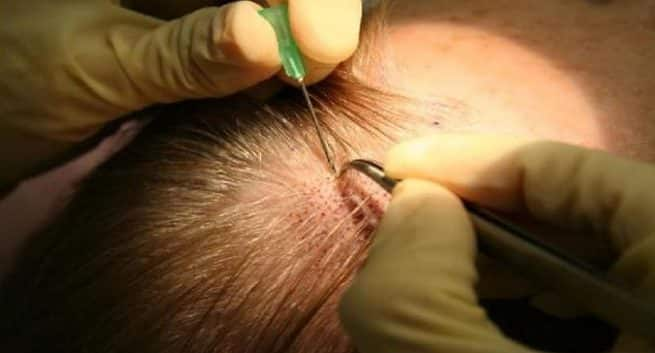 Hair restoration surgery is the one that people choose to cure their receding Hairline. This procedure involves transplanting the small sections of the scalp and hair follicles from the back of the head to the areas that have very little hair or no hair at all. These transplanted follicles will continue to grow hair healthily in their new location. Hair may continue to grow naturally in the areas that are supplied with the plugs.
But, before doing all these, you need to consult a dermatologist. They will help you know more about the cause of your hair fall; if they say it's due to hormone imbalance, or it's hereditary, then they will ask for your family's medical history. One standard test that every dermatologist does in this situation is the "pull test." They will gently pull on a few hairs to see how many fall out or how easily they fall out. 
They could also do a biopsy test of your scalp tissue to know whether your scalp is suffering from any infection, causing the hair to fall. You could also have to go for a blood test, to know about the thyroid disease which also causes hair loss. 
Life doesn't stop once you Start any of these symptoms and I strongly belive that Medical Science has developed a lot to Give you proper Suggestions. Well don't Panic, act according to Necessity. All the Best on your Health.