Mexican haircut is all about the modern take on classic cuts like the Caeser. Mexican Hairstyles hold certain masculinity to them along with decent old-school touch and are an integral part of the men's hairstyle.
Like most of the haircuts from Latin America, Mexican men's haircuts are best suited for men with short to medium-length hair.
Top 15 Mexican Haircuts: Taper Fade, Curly Hair, And More…
Here are the Top 15 Mexican haircuts to choose from:
1- Edgar Haircut
The Edgar, also known as the 'Mexican Caesar,' is one of the most popular Mexican guys' haircuts. It combines a short Caesar cut with a high skin fade and is ideal for guys looking for a new take on a buzz cut.
The classic Edgar looks edgy and modern, with its sharply defined and masculine features. Because your hair is short, it doesn't require much styling.
Styling Tips
Also, this style is highly customizable. You can choose any of the fade options like the high fade or the low fade to nail the Latino look!
2- Side Part Haircut
Guys can benefit from a side part hairstyle irrespective of their facial build, from rectangle to oval, round, and square. A side part hairstyle has become increasingly popular among men for this very reason.
Side-parted hairstyles can be customized based on the type of finish desired by the owner of the hairstyle.
Styling Tips
To achieve a more polished and professional look, many Mexican men opt for a side part that's been combed over.
Ask your barber to shave your hair to give it a more modern look!
3- Buzz Cut + Low Skin Fade
Mexico is famous for its skin-fading Mexican haircut, such as the Edgar, also known as the 'Mexican Caesar'. Opt for a buzz cut with a low skin fade to achieve a modern, on-trend, and masculine look.
Styling Tips
It is a more cool-looking Mexican haircut. If you want to give the cut some depth, a burr buzz cut is a great option.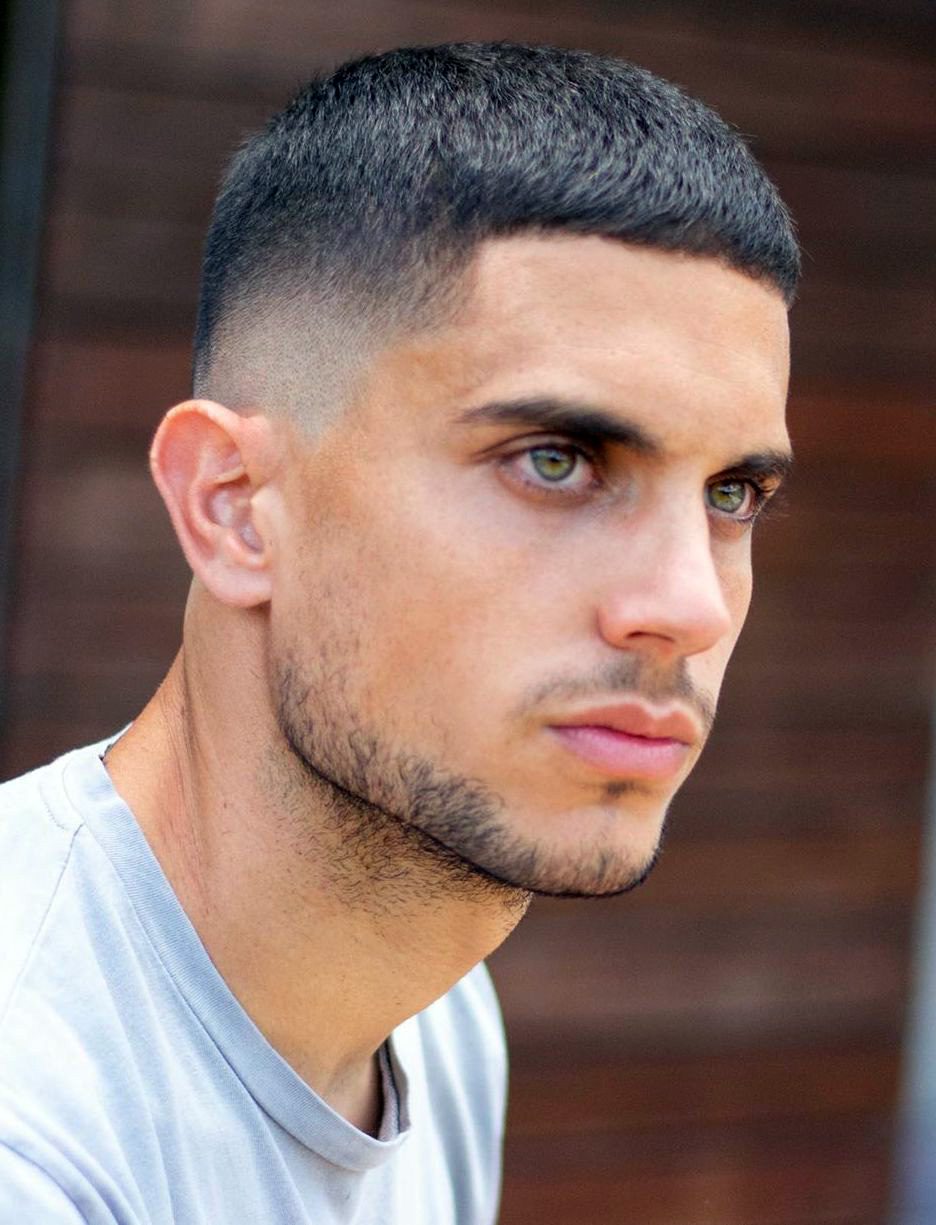 4- Wet Hairstyle
Longtime favourites of Mexican men have been wet-look styles like the classic slick back, which is still popular today because of its timeless appeal.
Styling Tips
It is probably one of the most macho-looking hairstyles especially when it is paired with long hair. Apply your take on this by playing with the length of the hair and by taking some stylish cut options for the back of the head.
Adding a little hairspray for a final touch is also possible!
5- Curly Fringe + Fade
Men's curly and wavy hair has become increasingly popular in recent years. The curly fringe with fade is the perfect cut for guys with naturally curly hair who want a stylish Mexican cut.
Styling Tips
Hair will be trimmed shorter on top, with longer curls at the front and faded sides, by your barber.
You can still show off your natural curls while still maintaining a more masculine and professional look with the fade.
6- Taper Fade + Quiff
A taper fade with a quiff is an elegant Mexican hairstyle option that is sure to impress. In addition to being suitable for business and formal occasions, the style has a fresh and masculine appeal.
Straight or side-swept quiffs look great on men with round faces because they draw the eye upward. Women find quiffs to be particularly seductive, making them ideal for when you want to impress.
Styling Tips
This hairstyle is a very polished choice. Try to go with a clean shave and decently faded sides to maintain the elegance to keep it elegant.
7- Asymmetric Fringe
For men with strong jawlines and angular features, an asymmetrical choppy fringe haircut adds an edgy and vivacious look to their appearance.
Styling Tips
Combine it with tapered sides for a delicate undercut effect and thicker hair in the Mexican variant of this hairstyle. Try colouring the front portions with different colours and tones to make the style more distinctive.
8- Long Wavy Hairstyle
This style is a signature one for Latino guys. It is stylish, bold, and sexy at the same time!
Women are drawn to this hairstyle because of its artistic and free-spirited vibe. If you have a long and angular face, it's a great look for you.
Styling Tips
Try to keep those long locks fresh by applying some shining serum. Also, get a masculine beard to complete the demi-god look.
9- Spiky Hairstyle
A popular hairstyle for men is spiky hair, which suits any hair type and makes hair appear thick and more healthy.
Styling Tips
For this look to work, make sure the spikes aren't too hard or pointed. Spikes can be created with softer styling products such as clay or wax, rather than a hard-setting product such as a gel.
This hairstyle can really bring out your personality. Try Pairing it with some bald fade for a more masculine look.
10- Slick Back Pompadour
Adding a slick back to a pompadour, one of the most iconic hairstyles for men elevates the look even further.
Because of its volume and height, it's an excellent choice for people with round faces because it makes their faces appear longer and slimmer. Plus, the wet look of a slick back gives the pompadour polish and a retro feel.
Styling Tips
Mix this Hispanic haircut with different fades like the bald fades or the high fade to get a distinct and smooth look. Add some high-quality hair product to give it the eye-catching shine!
11- Fringe
As a popular and versatile hairstyle, the fringe is a favourite among men. You can choose from a variety of fringe styles that will suit your face shape. A short, neat fringe is ideal for men with round or triangular faces because it hides a receding hairline.
Styling Tips
Keep the sides short and crisp. Try some good fades to go along with it. The finished look might be reminiscent of a combed French crop.
12- Middle Part Haircut
Mexican hairstyles are perfect for those who want a simple middle part that still stands out. Cool and retro, this look is easy to recreate at home.
Styling Tips
Try working some pomade through your hair to give it some hold and definition, with a light shine that falls somewhere between gel and clay. Use a tail comb to define your centre part, and then a soft brush to create a subtle wave effect.
If you're going for the Mexican middle part style, you'll want to have a square or angular hairline, and you'll want to have thick hair.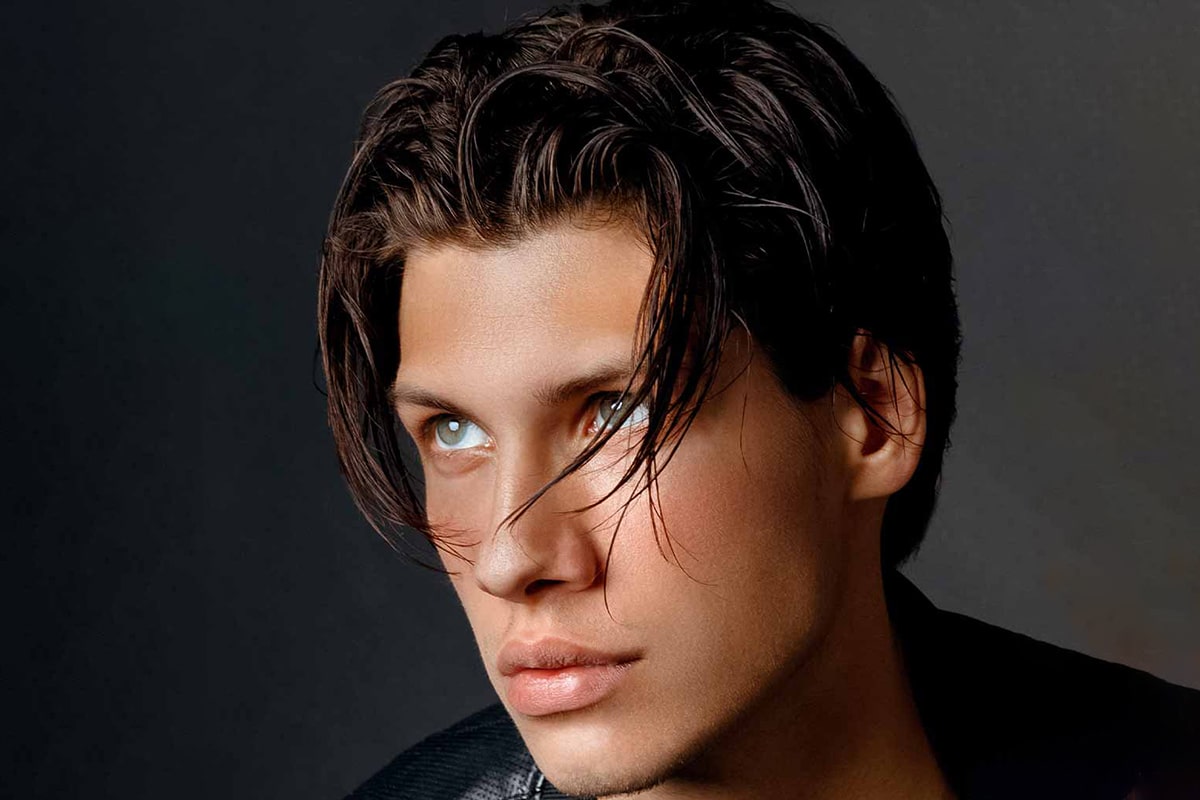 13- Textured Quiff
The texture of a quiff adds movement and dimension to thick hair, preventing it from looking like one solid mass.
Styling Tips
A short face can benefit from it as it adds height. You can use a matte product, like clay, on dry hair to create a textural effect.
For a more masculine look, have your barber taper the sides of the textured quiff.
14- Spikey Faux Hawk
One of the Mohawk Men's hairstyles, the faux hawk is one of the best Mexican haircuts for spiky Mexican Hair.
Styling Tips
It is a very subtle-looking haircut. However, you can always throw in some of those modern fades to get a more stylish-looking mohawk.
Pair this haircut with a well-groomed beard to get a robust and masculine style!
15- Burst Fade Mohawk
One of the most widely loved Mexican haircuts/Fade Haircuts that is still in fashion.
Styling Tips
This fade haircut is best when paired with the high fade.
A choice for young Hispanic boys and even grown-up men, the burst fade. The asymmetrical and undefined spikes give the textured and thick look this haircut needs in the middle.