Mai Tai is a tropical cocktail that sounds beautiful, fruity, and refreshing by its very name. There can hardly be any cocktail recipe that can transport you to a beachy location, with the sounds of the waves on the shore, bright sun in the sky, palm trees all around while you sip on your Mai Tai cocktail relaxing under the shade.
Mai Tai remains to be the classic cocktail that no cocktail lover can ever deny not having. It is the ultimate cocktail to lift your spirits high and colourful. The Mai Tai cocktail looks as beautiful as it tastes. It has a vibrant hue of colour to it which speaks tropical. 
What are the Origins of Mai Tai!
Mai Tai is supposed to have been invented by a fellow named Victor J Bergeron, who used the classic ingredients of two kinds of rum, orange curacao, almond syrup, lime and ice. 
It is said that when he served it to his friends who were Tahitian, the taste was so incredible that they blurted out, "Mai Tai", which translates to or means "the best". This is how it got its name, and it almost seems to have an Asian, Thai vibe and history to it. 
The Recipe of Mai Tai Cocktail
Before we understand the ingredients required for making a Mai Tai cocktail, it is important to get one thing straight.
There exist two versions of a Mai Tai recipe explained here. 
One is the traditional one which has been followed rigidly ever since its invention. 
There is no umbrella or extra decoration in a conventional Mai Tai other than a slice of lemon.
The other one is the modern one which has different elements added in.
The pineapple juice and the lime juice add some sweetness to both white and dark rum's bitterness.
The Ingredients of Mai Tai/ White Rum Cocktail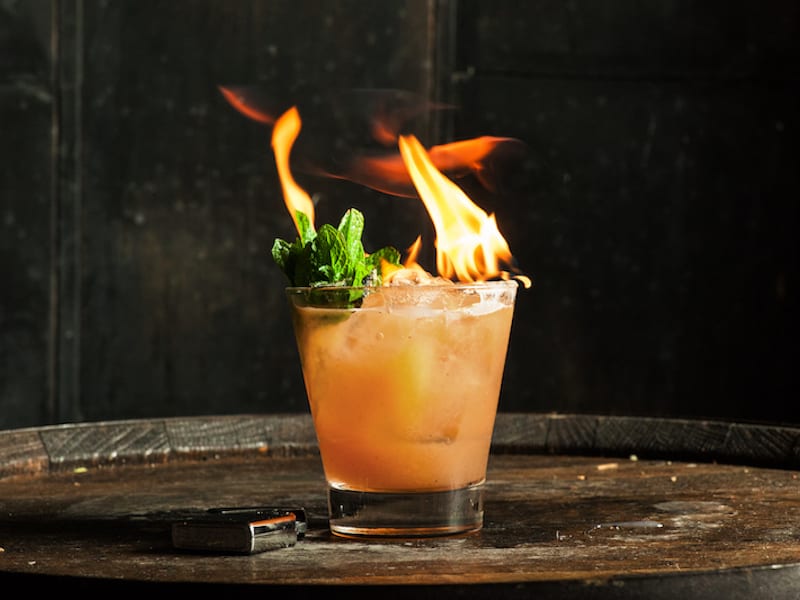 To make a Mai Tai recipe, these are the ingredients to have –
Two tablespoons of white rum
One tablespoon of dark rum
One tablespoon orgeat syrup or almond syrup
One tablespoon of orange curacao
1.5 tablespoon of lime juice
0.25 tablespoon of pineapple juice
One rocks glass
What is the Traditional Recipe to make it?
To create the Mai Tai cocktail's traditional recipe, you are required to stick to simple and native ingredients.
Take a cocktail shaker and splash in the white rum, orgeat or almond syrup.
Add the orange curacao along with a bunch of ice and shake it as well as possible.
Pour the cocktail into rocks glass till the brim.
Add a dash of lemon and dark rum to it, and there you have your recipe for the traditional Mai Tai.
Seriously! How simple is the traditional recipe? All you have to do is splash, splash and shake! 
What is the Modern Recipe of Mai Tai?
To create the modern version of a Mai Tai, you should add a dash of some extra ingredients to turn it fancier.
It would help if you had a cocktail shaker and dash in white rum, orgeat or almond syrup into it.
Add the orange curacao along with pineapple juice, orange juice.
Splash in a bunch of crushed ice and shake it as well as possible. 
Pour the cocktail into fancy glasses of double rocks.
You can add pineapple shavings or a tropical herb as garnishing along with an umbrella to turn the glass into something pretty and fancy. 
Tricks and Tips for You!
The only difference between a traditional Mai Tai and a modern Mai Tai cocktail recipe is the juice and decoration.
The juices add vibrant colour to the cocktail, making it seem more tropical and sweetening to balance out the white and dark rum's bitterness.
The herbs, umbrella are simply a way to make the appearance of the drink fancier than before.
Make sure you do not mix the ingredients or mix lime to the elements.
The recipe is supposed to be only shaken vigorously and poured straight into the glass.
Make sure the ice is hard and crushed instead of soft or almost melted; otherwise, it will turn the cocktail into a liquid drink.
So this was all that you needed to know to get that perfect Mai Tai recipe, including both the traditional and the modern twist to it. 
You can opt for whichever one sounds more fun and interesting to you and enjoy the perfect tropical mood and vibrancy along with Mai Tai.