When you talk about hairstyles that are short and classy, Jensen Ackles comes to mind. The audience (mainly the female ones) knows him as Dean Winchester from the horror tv series Supernatural.
Jensen Ackles Haircut/Dean Winchester Haircut – whatever you might want to call it – is a short, spiky haircut frequented with the side part fades. His smoldering looks took the hearts of almost every woman on this planet when the Texas boy first appeared on the Television show Supernatural.
For men who want to have hair like Dean Winchester, you have come to the right place. Jensen Ackles Hairstyle isn't a very complex one as said earlier it is just a short haircut with different lengths of fade.
Let's look at the different hairstyles Jensen Ackles has had over the years.
The Dean Winchester Haircut: The Classic
The classic Dean Winchester look for Jensen Ackles would be the medium-length front hair for a side part with a mid-taper fade on the sides with short stubble.
With the right length of hair, you can easily style this haircut with hair wax and really go for the hair in the front to make sure there are some textures seen.
You can even use wet-look hair gel to style your hair to give yourself a 'fresh from the shower look'.
Jensen Ackles Haircut: Faux Hawk
Unlike his usual style, Jensen Ackles sported a fohawk for a while. He switched from his usual short side-swept hair to this really edgy hairstyle, which to be fair, made all the guys want to have since it was all the craze back then.
The fohawk has made a comeback, but with a more sophisticated and classy look. But Jensen Ackles didn't have the option, he rocked the classic one.
Even though it was the old one, it is fair to say we couldn't compete with him as his hair with the blonde and brunette highlights in his hair was perfect.
High Fade Spiky Side Swept Jensen Ackles, Dean Winchester Haircut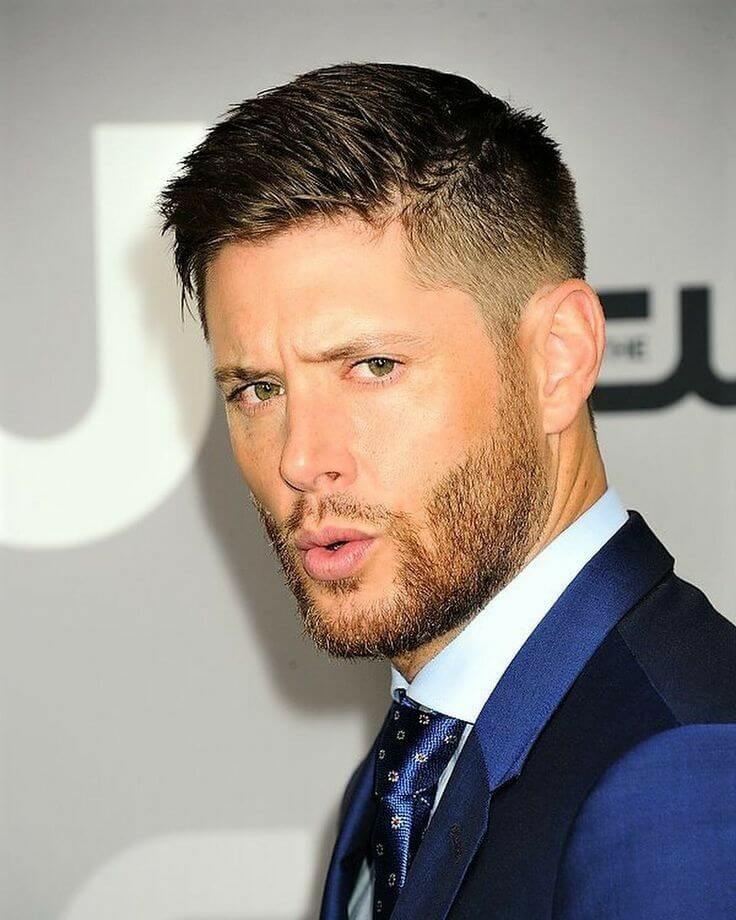 This is another one of Jensen Ackles's classic haircuts – the short hair on top spiked up and combed over to the side while the sides have a high fade touching almost to the side part.
The Haircut Dean Winchester has here is pretty easy to style yourself. Have your barber give you a high fade and cut the top of the hair accordingly so that it doesn't look really disproportionate.
You can't have your hair cut too short or too long as this style doesn't work with really short hair or long hair. Use hair wax to style your hair on top and pair the style with a neatly trimmed beard.
Long Hair Dean Winchester Haircut
This was probably the first haircut Jensen Ackles showed us in his role as Dean Winchester in Supernatural.
He had a back and side heavy long hair hairstyle. Jensen Ackles styled it with a mid-part and let two fringes drop on either side of his forehead. The blonde to brown fringe really highlighted his green eyes, making an instant heartthrob amongst all the teenage girls.
Jensen Ackles Haircut with a High Faded Spiky Quiff
Similar to the previous style, he has a high fade and spiked hair with hair wax or similar hair products. The top of his head has a quiff with texture at the front made by his comb or fingers, rather than the whole thing like the previous one.
Jensen Ackles paired it up with a full, kept beard. It might be difficult to style it yourself, but after a few tries, styling your hair would be the least of your concerns.
Recommended: Justin Bieber Haircut: Evolution Of Justin Bieber's Hairstyle
Dean Winchester Haircut Jensen Ackles Short Side Swept Hair
This is the usual Jensen Ackles hairstyle. To get hair like Dean Winchester, you will have to have a low fade, very low actually, to not let the hair around your ears annoy you.
You can style your hair with your hands. You must comb your hair with a side part in place, adding to the style and look.
In short
Jensen Ackles might not actually have a lot of hairstyles and haircuts under his name, but it is more about how he styles it. Getting hair like Dean Winchester from the show Supernatural is very easy, it is about how you style it.
To get one of the many Jensen Ackles Haircut, you'll have to keep in mind that his style only works with short hair or medium length hair.