Prisoner squat is a kind of squat that prisoners in prison do for punishment. Wait !!! Isn't this precisely what you thought, right? I thought the same thing the first time I heard. Let's discuss it in brief. 
What is a Prisoner Squat?
 Well no. It is called so because of its variation in which you have to keep both of your hands on your head throughout the exercise, just like when a suspect is asked to raise their hands before detention. Those who are into practice must be very well acquainted with this term. Prisoner squats mainly target quads, hamstrings, and glutes. This is a kind of exercise where you do not need any gyming kit to workout.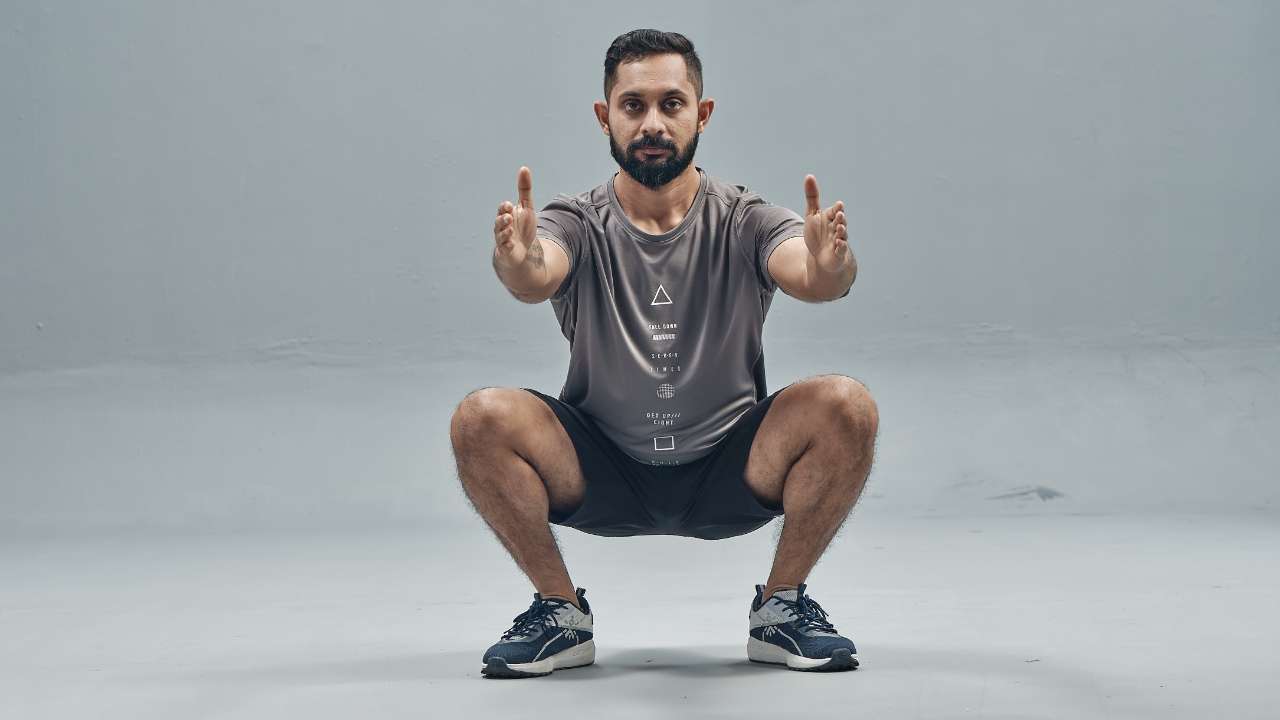 Therefore you Can do this exercise wherever you want. If you wish to warm up the body faster and strengthen your leg muscles, this one's for you. Parallel to what it sounds is quite a strenuous exercise. To perform this exercise, you simply need to keep your hand behind your head and bend your knees in a squat position. Keeping your hands on lockdown means you cannot enlist your arms to help maintain balance on the way down or generate momentum for the backup way.
How to Perform Prisoner Squat Exercise?
Now, as we know what prisoner squat is and how the name came from, let's discuss how to do it.
Step 1: Stand on both feet with shoulder or hip-width apart.
Step 2: Now, tilt your upper body a little forward and keep your chest up. 
Step 3: Bend your knees a little.
Step 4: Put both your hands on or behind your head. Make sure not to push your head forward while doing it. Sometimes it may happen unknowingly, especially if you are a beginner but try not to do it. 
Step 5: Keep your elbows pulled back.
Step 6: Now bend your knees to a sitting position and hold it for a few seconds. 
Step 7: Then finally, go back to your original position. Repeat the goals as per your goals.
Restricting your body in this way will increase the demand on your legs, improving your balance and helping you to get leg strength, core strength, and glute strength. This exercise is also suitable for a cardio workout. If you are a beginner, aim for three sets of 12 reps. 
Again people with weaker lower back or women who are pregnant should avoid this. But still, if they are willing to perform it, then better use a gym ball and try doing it against a wall. This way, they do not have to stoop too low.
Furthermore, if you have weak shoulders, do it the same way mentioned above avoid putting your arms behind your head. And if you have weak knees, do it similarly. Just keep in mindfully avoid bending your knees too much.
The Different Variations of Prisoner Squat!
  There are various types of prisoner squat-
1. Prisoner Box Squat 
If you are just a beginner, you can start with this variation. Prepare a box that is not too high. This. Variation is similar to bodyweight box squat with a bit of twist, which needs a better balance.
2. Prisoner Squat Jump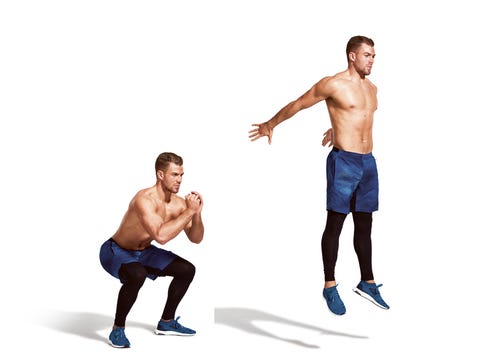 This one is a little more difficult than before. You can start doing it when you are a pro with the original one. This variation is similar to the original prisoner squat. Just the difference is that you need to jump and set your feet off the deck as much as possible. Once you land down, you need to make sure you are in the half position just like you began the exercise. Make sure you do not forget to keep your hands locked up on your head throughout jumping.
3. Advanced Prisoner Squat
This variation is the most difficult of all the above. Begin it only if you are very used to doing exercise in routine. This one is especially for people like a fitness trainer or who into hardcore gyming. To do this, you need to hold weight in both of your hands. For more challenges, you can also jump as you rise from the squats.
The Benefits of Doing Prisoner Squat Exercise.
When you Gain muscles by squats, it helps you to burn fat faster.
Helps you in total muscle growth of the body and not the legs. It releases hormones that are essential for muscle growth.
Aid in improving blood flow, body fluid and helps in removing waste from the body. Further benefits in bowels movement and keeping it regular.
It helps to tone your leg muscles specially and strengthen your calves, quadriceps, and hamstrings.
Doing squats will help strengthen your ligaments and stabilize your muscles and core, improving the link between brain and muscles, thereby preventing injuries and falls. It will furthermore improve your balance and flexibility.
Working Out everyday makes your body fit and Healthy. Even if you are a novice in this pattern, don't worry, keep doing it and one day you will succeed!