Many people suffer due to being overweight, but some due to lack of weight. Gaining weight is also essential for gaining muscles. Gaining weight is the easiest and the tastiest thing to do in this world. If you choose the right recipes, gaining weight would become your top priority, you need to make sure you don't go overweight. 
The easiest method to gain weight is by making homemade mass gainer shakes. Making shakes and smoothies won't take too much of your time, and it would be good for your taste buds as well. This article will help you know a few of the homemade mass gainer recipes. Here is some DIY mass gainer shake for you!
1. Try some Orange Shake
Ingredients Required – 
Orange juice 200 ml
Full-fat milk 200 ml
Milk cream 100 ml
Protein powder two full tablespoons
Ice cubes, according to your wish
A small banana
One tablespoon honey for sweetness
Put them in a grinder and grind it till it looks smooth, make sure there are no lumps, as it would give a wrong texture to your shake. You use the ice cubes for the required thickness of your shake. 
2. Choco Almond Shake
Ingredients Required – 
Full-fat milk 400 ml
Chocolate bar 50 gm
Milk Cream 50 gms
Almond powder 50 gms
Coarsely grated almond one tablespoon
Ice cubes
Honey 1 tablespoon
One small banana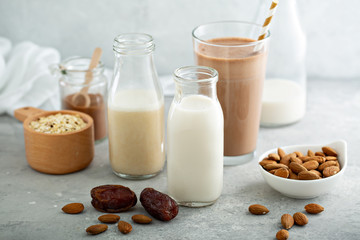 Make sure to mash the bananas, honey, cream, protein powder and chocolate and grind it in a mixer for a minute until it has a smooth texture. Add milk and ice and blend it again till a thick cream textured shake shows up. Add grated almonds for adding crunchiness to it. For all the chocolate lovers out there, this is the best thing you could ask for gaining weight. 
3. Banana Strawberry Shake
Ingredients Required –
6-8 strawberries
I big banana
Strawberry ice cream one big cup
Full-fat milk 400 ml
Protein powder two full tablespoons
Milk cream 50 ml
Honey 1 tablespoon for sweet taste
Coarsely ground chocolate chips two tablespoon
Ice cubes according to the thickness of the shake you want
Grind the strawberries and banana first. Then add honey, cream, protein powder and some milk and grind again. Add some balanced milk and ice according to your requirement and blend it until a thick creamy shake is obtained. Sprinkle some chocolate chips for fancy looks. 
 4. Peanut Protein Shake
Ingredients Required – 
Roasted peanuts coarsely grated 50 gms
Banana 1 big
Milk cream 70 ml
Full-fat milk 400 ml
Almond butter one tablespoon
Strawberries 6-8
Honey 1 tablespoon
Ice cubes
First grind the almond butter, cream, strawberries and protein powder. Then add banana and honey and blend it again. Now add milk, ice cubes and peanuts and give it a grind until a smooth texture is obtained, make sure to get rid of the lumps due to the strawberries. It is said to be one of the heaviest shakes as after drinking one full glass of peanut protein shake, you can easily skip a meal of yours. 
5. Pineapple Coconut Banana Shake
Ingredients Required – 
Coconut cream 100 ml
Coconut water 50 ml
Pineapple slices 4
Banana 1 small
Full-fat milk 400 ml
Milk cream 50 ml
Protein scoop two full scoops
Ice cubes
Grind the cream, coconut water and pineapple until a smooth paste is obtained. Then add banana, protein scoop and milk and again blend. Now add ice and give it a final grind to avoid lumps of banana. It is one of the most used homemade mass gainer shakes, as it consists of three delicious ingredients, i.e. pineapple, banana, and coconut. Not many could resist it.
6. Chocolate Coffee Blend 
Ingredients Required –  
Chocolate powder one tablespoon
Instant Coffee powder one tablespoon
Full-fat milk 400 ml
Milk cream 100 ml
Honey 2 tablespoons
Chocolate ice cream one big cup
Protein supplement two scoops
Ice cubes
First, blend coffee and chocolate powder, and then add honey and cream then again blend it in the blender. Finally, add ice cream and ice cubes and give a final grind for a smooth texture.
7. Albanana blueberry protein smoothie
Ingredients Required – 
One large banana
Curd 200 ml
Almond butter three tablespoons
Blueberries 100 grams
Whey protein powder one scoop
Almond milk 100 ml
Dates, seeded and soaked in warm water for about 10 minutes
Ice cubes
Blend all the ingredients without ice cubes first, till you obtain a smooth texture. Once done, then add ice cubes and blend it again till the needed texture is obtained.
So, these were some of the homemade weight gainer recipes for you. Which would help you make weight gaining a straightforward process, also satisfied taste buds would be complementary. Do let us know what you feel about Weight Gaining Smoothies and More. We are hearing you anyways!