No matter how clean you keep yourself, one thing that people give a dirty look to is dandruff. However, it has become a pretty common issue for a majority of people.
Why do Dandruffs Happen at all?
We usually are always running for remedies of dandruff, thinking of it as a never-ending problem. Have you guys ever considered what can cause dandruff? If we get to know the roots of any problem, we will solve it better. Well, dandruff can occur for several reasons. 
Again if we closely notice dry scalp and dandruff have more or less similar conditions, as the key symptoms in both conditions are itching scalp and falling flakes, therefore may get confused. But dry scalp and dandruff are two different things. In the dry scalp, the skin being dry gets irritated and flakes off. And in the case of dandruff, the scalp gets oily, and that excess amount of oil makes the skin cells build-up and then shed.
But what causes dry scalp? When the scalp gets too dry due to little moisture. The skin of the head gets irritated and flakes off . one can even notice that if their scalp is dry, their other parts of the body can also be dry. Few causes of dry scalp are – cold or dry air, contact dermatitis, which can be caused by any contact of products that do not suit you that you use on your head, and also old age can trigger it too.
Does Dandruff Signal Bigger Problems in the Long Run?
 Again when you have dandruff, the skin cells of your head shed.off faster than usual. Well, if we come to look at it, the leading cause of dandruff is seborrheic dermatitis. It is a condition when the skin of your head becomes too oily, red, and scaly. The skins turn white or yellow. When that yellow and white skin flakes off, it is called dandruff. One can have seborrheic dermatitis anywhere where oil glands are present. For example, groin, armpit, along the sides of the nose, or even your eyebrows. This can happen even to babies. And this seborrheic dandruff is called cradle cap in babies.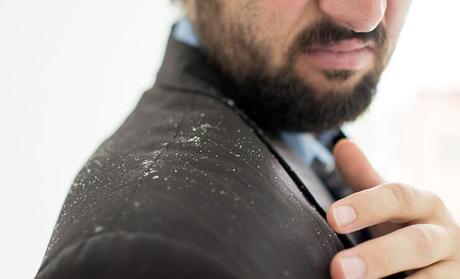 Dandruff in our heads can be triggered by a fungus called Malassezia. Usually, this fungus already lives on our skin. When you need more skin cells, the skin cells multiply in themselves. Now, this Malassezia fungus allows or causes skin cells to multiply more quickly than usual. Some people have an excess of this fungus and some less. Again this fungus can be triggered by some factors such as age, hormones, or stress.
Dirty hair may not cause dandruff, but irregular washing of your head or improper cleansing of your shampoo from your head can trigger the oil build-up on your head to flake your scalp. Now when we have known the causes leading to dandruff, we can easily find the solutions. But when it comes to removing dandruff, we often use several chemicals, shampoo, or medicines. But today, we are going to suggest to you some home remedies for dandruff removal in the most natural way possible.
Best Remedies for Treating Dandruff at Home!
1. Coconut Oil
One of the most commonly available in every hold. The benefits of coconut oil. We all know the benefits of coconut oil. Coconut oil is one the best natural moisturizers and also has microbial properties which can prevent fungus. Make sure you buy a pure oil with no adulteries in it. Or if you want you can home make it from the fruit itself.
2. Aloe Vera
Another ingredient anyone can get without spending a lot. It can be easily obtained from nature itself. One can even buy a baby plant and plant it to grow without much struggle in their home pot. It has all the antibacterial substances. And antifungal properties which can help protect one from dandruff. Also, we all know that it's a kind of succulent that is used in various kinds of cosmetics or skin ointments and lotions.
How Can You Control Dandruff from Happening?
1. Lower your

Stress level 
Well, stress does not trigger dandruff directly, but it can influence symptoms like dryness and itchiness of your scalp. Long-term sustenance of high-level stress can suppress the immune system of our body. A low immune system can reduce the body's ability to fight against fungal infections or skin conditions that cause dandruff.
2. Try and Increase consuming omega-three fatty acid
This fatty acid is essential for our body. They help in making the cell membranes that surround the cell. They also help in keeping the heart, lungs, and immune system healthy. They further play an essential role in keeping our skin healthy. They help to manage the oil production and hydration in our body. Omega 3 fatty acid also reduces inflammation which in turn relieves irritation and dandruff.
   Above are some of the easiest and simplest ways to get rid of dandruff without much cost. Not only men but anyone can do it without any hassle.