Due to the pandemic, many shops have been closed for a long time. Many also fear to go outside and have a haircut. This is the best time to learn how to do haircut at home. Many think it to be a tough job, but it isn't. You need to follow simple steps and have patience. Many people cut their hair by themselves, but that isn't easy for first-timers, so this article will also help your partner cut your hair. 
What are the Tools Required?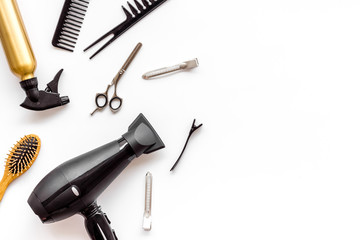 1. Scissors
It will help if you use hair cutting scissors. They need to be sharp and should fit in your fingers perfectly. If you use a regular scissor, they could be very big or tiny and not do your fingers, which might ruin your hair cut. 
2. Comb 
This is the most accessible tool you can use to move your hair around while you're cutting it. You will find almost every possible kind of comb at your home. It would help if you chose the best-suited comb for cutting your hair, which best suits your hands. 
3. Hair Clips 
This is optional; these are used to keep your hair out of the way while cutting your hair. 
4. Mirror
If anybody is cutting your hair, you require a mirror to guide him/her as to how you want your hairstyle. Don't miss your hair without a mirror, "don't try these stunts at home." 
5. Clippers
Clipper sets have guards of different lengths to help you to cut your hair consistently and evenly. Sometimes, they have specialty guards for cutting around the ears and eyebrows. 
6. Thin scissors
These scissors are used primarily to thin out your hair as opposed to cutting through all of it.
Some Haircut Mistakes to Avoid!
Don't be too aggressive; make sure you have ample time to cut your hair. Don't miss your hair too fast or too much in search of new hairstyles. It might end up ruining your hairstyle rather than giving it a good look.
If your partner is cutting your hair, you need to communicate with him/her about how you want to cut your hair. If your partner is cutting your hair for you, make sure they know exactly what you want. Don't leave it to them to decide what haircut you get, it's YOUR hair so tell them what you want. 
Lastly, don't expect too much, you aren't a professional, and neither is your partner. You're going to be disappointed if you have high expectations from yourself or your partner; they won't be able to cut your hair as well as you want. Make sure whoever is doing your hair cut at home doesn't feel pressured to get it perfect because, from my personal experience, I can guarantee that they won't.
Here are the steps that you need to follow – 
1. Visualize what you Want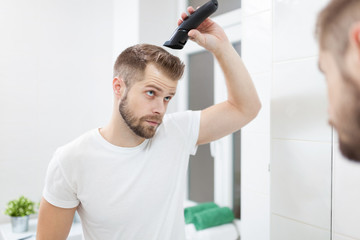 Before starting, you need to know what you exactly want. If anybody else is cutting your hair, you need to make him/her understand what you exactly want. One of the best ways to do that is to think that you have been electrified; now, you can run your hands through your hair and look at what you have, then Imagine what you want the result to look like. 
2. Prepare your Setup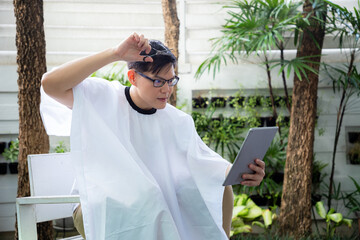 Prepare your chair or make room in the bathroom for some mirrors. Clear the floor of anything that may get in the way—wet your hair in the shower or the sink. Comb your hair straight back. Cover your clothes with something so that they are protected from the hair falling.
3. Cut the Sides first.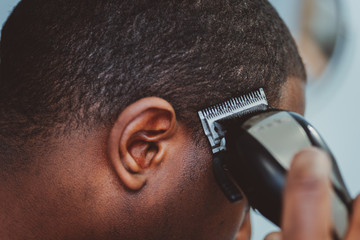 Sides are the most accessible region to start your haircut. Be very careful while cutting the Transition Zone; this is the boundary between the lower half and upper half of your head. This is the area where we will blend, so don't cut into this region yet; keep perfecting your sides. A blend is a transition from shorter to longer hair. The goal of blending is to make it look seamless. Most men like their hair as long as you move up the head. Start by cutting less, as if it doesn't seem enough, you could go for the second and third round. But if you start by cutting too much, then there's no coming back. 
4. Cut the Top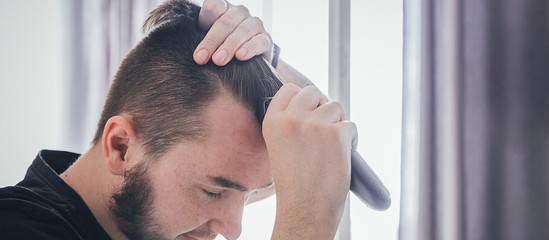 Begin cutting from the top, starting from the front and working towards the back. When cutting the hair from the top, pull the hair with your fingers perpendicular to your head, and then cut a small amount off the ends. Move to your left side and repeat the process, and finally do it on the right side. Yet, when you are done, have a look in the mirror and check whether both sides of your head are equally cut or not. 
5. Time to Blend In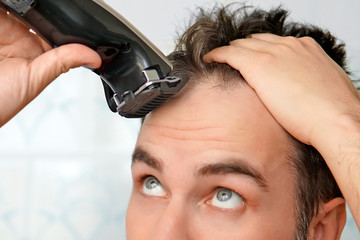 Congratulations, you are almost there to have a perfect haircut, but here comes the hard part, cutting the transition zone. Depending on the style you are going for, the transition zone doesn't need to be even on all sides. Use clips (or fingers) to keep the hair you want to keep longer out of the way. Visualize your hairstyle and blend accordingly. Now take a few steps back and look for lines (a clear transition between short and long hair) and the off shapes, if any. If not, then you are done. 
6. Should you Wash your Hair after Cutting it?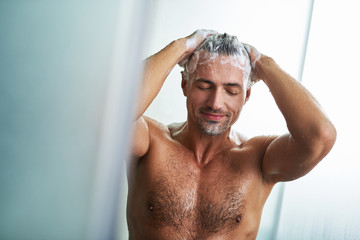 The easiest part of all is washing your head with shampoo so that the stuck hair gets removed. Also, apply a conditioner to give it a shine. Dry your hair with a towel and comb it properly. After this, if you see yourself exactly how you wanted to be seen, you have officially passed the exam. 
Cutting hair at home isn't manageable, but I hope this article will help you or your partner cut your hair at home. So go for a Lazy Sunday Haircut day and do what you love. Let us know in the comment section below how you liked it or not. We are eager!