The clothes that we wear nowadays cover not only the body but also our personality. We, humans, want nothing but perfection when it comes to looks. For instance, men's suits are available in numerous styles. In this article, we will know about a technique known as Pinstripe Suit, which has been in the men's fashion world for over a century. This specific style rules the formal wear kingdom for men. These are so versatile that you can dress them for work, a wedding, a black-tie dinner, or any other formal event. It's a timeless classic.
What is a Pinstripe Suit?
The term "pinstripe" refers to a specific textile design consisting of many evenly spaced and thin parallel lines. However, most men's pinstripe suit consist of vertical lines. It's called "pinstripe" because the lines are fragile, just like a pin. Many people confuse it with the traditional striped suits; they have thicker lines on them than the Pinstripe Suit.
It is one of the most formal business suits that a man can wear. A Pinstripe Suit has a place reserved for the workplaces or a formal occasion. 
Different Kinds of Striped Suits
There are three types of stripes that you would see on a Pinstripe Suit- 
1. Slay the Formal Outfit with a

Pinstriped Suit
They are fragile lines and have got this name as they look just like a pin's top. To be exact, it is about 1/30 inches wide. There's generally a space of 1 inch between each stripe. Pinstripes usually are used on dark-colored suits. It is what we say, a timeless classic.
2.
Chalk Stripes

to Make you Look Hotter!
It is just what the name explains. The design looks like someone has drawn a straight line on the fabric using chalk. These stripes are generally thicker than the Pinstripes, and also have more expansive space between them. These kinds of bars are usually used on suits worn in cold areas, or for suits for colder climates than usual. These stripes are also known as the Rope stripes.  
3. Make a Style Statement with
Regimental Stripes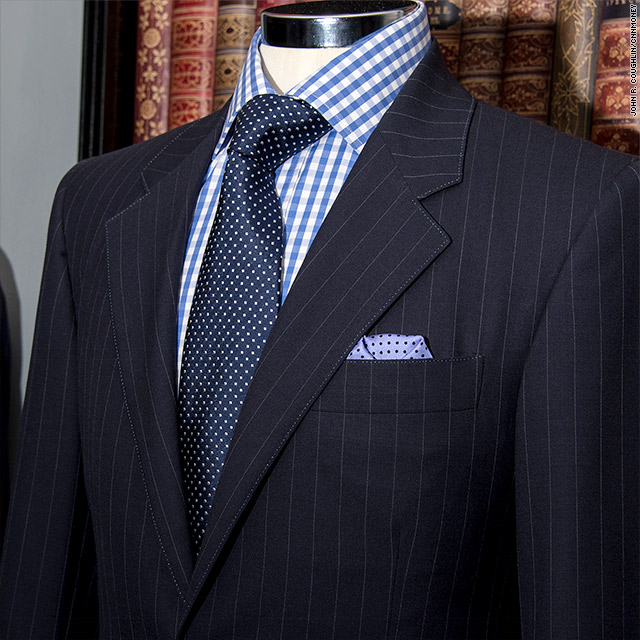 This type of stripes on a Pinstripe suit is worth mentioning. These are the stripes you will find on ties, making a 45 degree parallel angle with each other. They point in the downwards direction from left to right. Its origin was from the British army. The Americans wear ties with stripes from right to left. 
What is the Correct way to Flaunt These?
The most important thing that you should take care while wearing a Pinstripe Suit is FIT. It shouldn't be too tight or too loose. It should perfectly fit you. No matter how good or expensive the suit is, you will look terrible again if the fit is terrible. Here's a list that you need to have to have a perfect look with the suit- 
Your Shoulders should have a natural drape
Your waistline should have an excellent "half-moon" shape
The jacket should be long enough to cover your seat
The sleeves should end around the bone at the end of the wrist
Pants should fit nice but should not be overly tight
Hem the pants to a proper break
Which Shirts should you Choose?
There are not many shirts that would go with the Pinstripes style, but here are a few of the colours which you could try- 
Light Pink will also work well.
Few Pro Tips For Styling it Right!
1. Avoid using too many Patterns.
In fashion words, if you use too many patterns in your look, then it doesn't look quite. Pinstripes suits are itself known for their designs, adding more design may make it look clumsy. 
2. Don't use a Single Colour.
Not many look good in a single colour Pinstripes suit. Not everyone can be John Wick and Zinedine Zidane. 
Wearing a Men's Pinstripe suit entirely is not an easy task, but if you master this art, it will surely help you with your looks and personality while you wear it. This article will help you master that art if you understand its use, with what it's used, you can easily crack the egg. We want you to look perfect on your Formal day and on your Dates, that's why we care about you. Now it's your turn, let us know which Stripe you Prefer and Why?