The most recognized face of Hollywood, George Clooney, is known for his style but not his different styles of haircuts. These days, with the fans of that era getting old have opted to copy George Clooney haircut style.
The haircut and beard style of the veteran-ish actor and his acceptance of the salt-and-pepper of his hair color has been embraced by men all over the world.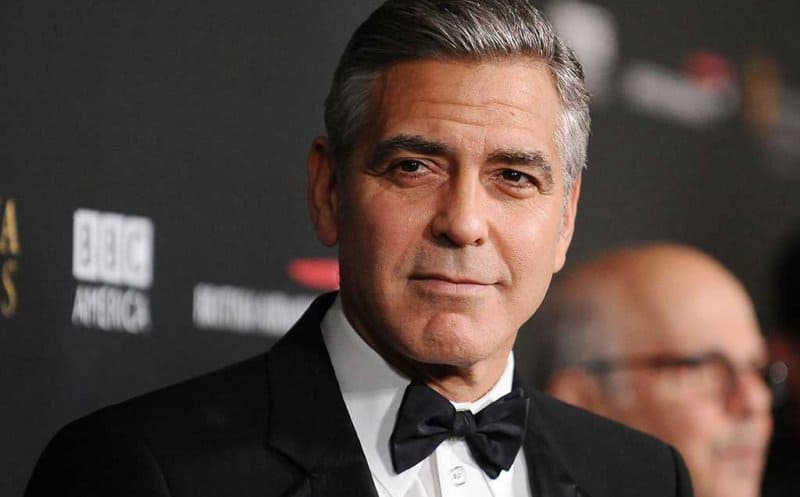 The 59-year George Clooney is what we would define as the man of elegance and style. George Clooney was introduced to the world with his series ER where he played the doctor and then, later on, ventured on to the movie business.
Geroge Clooney was voted The Sexiest Man Alive TWICE!
Surely, he is doing something right with his hair, which makes him so desirable amongst women of all ages, making men search for his style and try and emulate it.
Young George Clooney Long Hair
The young George Clooney had long curly hair. He always flaunted his brown hair when he was young.
George Clooney had a mid-part for this haircut and supported it with thick sideburns adjacent to his ears.
How to get this haircut?
If you want to get this style you would want to grow your hair out and be patient with it. Make sure it stays moisturized and doesn't go dry as it will lead to dry scalp, dandruff, and hair fall.
Once you have the length you desire, curl your hair if you don't have them naturally and let it flow freely to give the people around you an easy-going vibe.
Messy Pomade Mullet George Clooney Haircut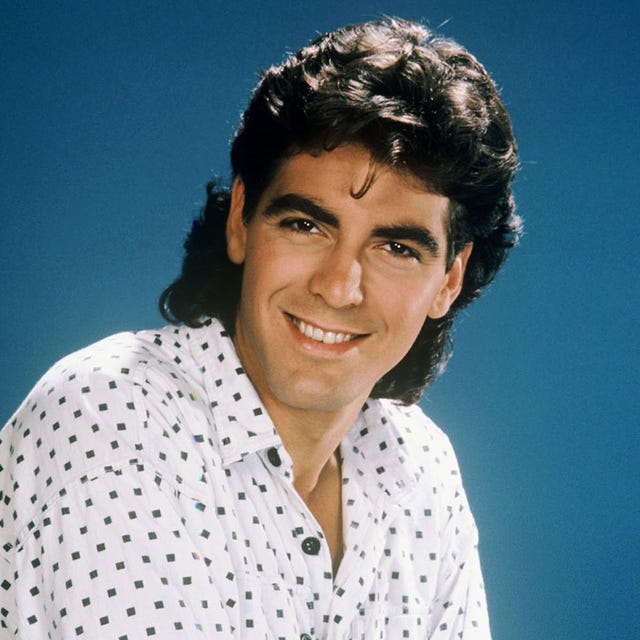 George Clooney sported a mullet during his younger years. Back then, having a mullet was a statement. He managed to make this haircut a very stylish option for men with long hair.
George Clooney styled his mullet with pomade on the top with every a messy look having a few fringes falling, and letting the back of his hair be allowed to flow freely.
George Clooney's natural curls added to the look as well.
How to get this style?
For you to copy this George Clooney Haircut, you would have to let your hair grow and have your sides trimmed keeping the back just slightly trimmed, so that the back of the head has a messy bedhead look instead of a messy homeless look.
You can choose to use a product to run your fingers to make a pomade on the top of your head. Not a very defined one, but enough to make out it's a pomade.
Side-Combed Mullet George Clooney Haircut
This was one of the many haircuts of George Clooney's that was copied by men around the world.
This haircut had the gravity-defying hair at the top with a curled up in the front as a fringe and the sides combed straight back and the back left as is.
How to get this style?
You can copy this haircut by having your sides cut shorter than the top and back. Apply some product on your fingers, run it together, and apply on the top of your head to give it the volume.
Then comb to the side.
You have to remember, these long haircuts are difficult to maintain during their growing stage, but you need to be patient with them.
Maintain your hair well so you can avoid hair fall, dandruff, and dry scalp.
80s Highschool George Clooney Haircut
George Clooney in his 20s had a haircut that was majorly dependent on regular trims by the barber to maintain its look.
George Clooney maintained thick sideburns which grew till below his ears. His hair at the sides was combed back and so was his hair at the back.
The hair at the top had a lot of volume and heft to it, as he wielded it by combing at and an angle and letting some of his hair at the from fall on his forehead.
How to get this haircut?
For you to copy this haircut, you will have to have a fairly substantial amount of hair at your sides and back, enough length for it to be considered long – or just about pushing the boundaries of "Long". Maintain the look with thick and long sideburns, along with a lot of volume for your hair.
90s Lead Guitarist Long Locks of George Clooney
It's safe to say that George Clooney had exceptional grooming techniques because as you can see the length of the hair for this style is very long – almost beyond the shoulder length.
He was the only celebrity who chose to grow his hair this long and maintain it for quite a long time before it became a hassle.
How can you get this style?
You can choose to have this style if you have impeccable patience and maintenance discipline, as maintaining hair this long would be a hassle and to want to keep it from problems like hair fall is a must and a very difficult task.
You would want to maintain the moisture in your head, to avoid it from getting dry which would, later on, lead to irritation from dry scalp and dandruff.
George Clooney Pigtail Style
Recently, when these old photos of George Clooney were revealed in the news, social media failed to recognize the rustic, rugged look of George Clooney's.
The news was filled with various mind-bending stories about this "phase" of his life when they saw this was also one of many George Clooney haircuts.
How to get this look?
He maintained thick sideburns which would touch the end of the jawline and a Cross as an earring.
His hair was gelled, by a LOT of gel, and pulled back for a pig-tail at a lower level of the back of his head.
The Classic Professional George Clooney Haircut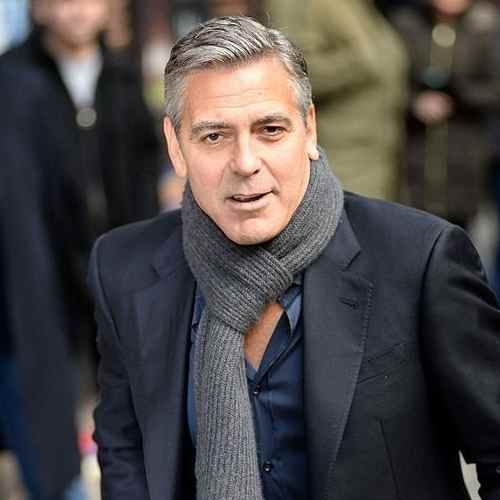 This is the haircut that the actor is known for. The hairstyle oozes confidence, elegance, and class. This is one of the three main haircuts that George Clooney is known for.
How to emulate this style?
For this, you should have your barber cut the sides and back cut shorter than the top.
The hair at the top is combed over to the side while the hair at the back and sides is short compared to it.
You might want to use some kind of product to maintain the hold.
Close the Sidebar George Clooney Haircut
This is a similar haircut but with a longer hair length and a beard to complement it.
The sides and the back would be short, with the top being held up by the product.
The Flowbee Crew-Cut of George Clooney
George Clooney used to cut his hair with vacuum-powered haircut clippers called the flowbee. These were preferred by the celebrity as they made very less mess, and the results were, as you can see, very satisfactory for the star.
And who are we to judge his style when you look so great!
By the way, you can still find the clippers if you can search online.
Also read: 9 Must Have Cosmetics for Men!
George Clooney Savvy Haircut
This, like the others, is a similar haircut with longer ends of the front end of his hair. George Clooney used texture clay as a way to grooming his hair, along with a long well-rounded beard.
Conclusion
George Clooney had a great fashion sense during his younger days and took risks. As the years passed by he embraced the salt and pepper looks and styled it accordingly.
And for decades, ever since the TV commercial, George Clooney has been cutting his own hair.
George Clooney has come a long way from having a bowl cut to being voted the Sexiest Man Alive, TWICE!
This should give us some hope after seeing the kind of journey George Clooney has had in terms of his haircuts and fashion sense.