One of the most popular haircuts for African men with naturally curly hair is the frohawk (pronounced "fro-hawk"). When it comes to afro hairstyles for men, you can choose between long or short hair on top and a variety of fade options on the sides.
Similar to the Fauxhawk, the Frohawk is a less bold version of the traditional mohawk hairstyle. When styled properly, frohawks can be edgy and trendy.
What Is A Frohawk?
Mohawk and afro are combined to create the frohawk. It is like a strip of hair in between along with shaved or faded sides. Such hairstyles are created by pairing sides that have been faded or undercut with tops that have afro-textured hair strands.
It's possible to experiment with a wide variety of taper fade haircuts, but three of them tend to be the most popular: the burst, the temp, and the high skin. As black hair has become increasingly popular, frohawk fade has gained in popularity over the past few years.
How To Cut A Frohawk Hairstyle?
Trim a fade on the sides of your head with clippers before cutting a frohawk fade. By opting for a high bald fade haircut, you can avoid shaving your sides. A low, mid, or high taper fade can be paired with a burst or drop fade for a faux hawk. The hairline can be sharpened by adding a line-up.
The sides and top of the frohawk fade will usually have a smooth transition. No matter how big or small your afro is, this gives you a stylish look.
Make sure to fluff up the frohawk when you've finished trimming the sides. Use different lengths to trim the spikey top hair for a messy look.
A strong pomade, gel, or grease is used to style the frohawk cut. Many frohawk hairstyles exist, but the best push the hair towards the middle of the head to create pointy tips.
Check out our guide to the best frohawk hairstyles for men for creative inspirations and unique ideas!
Top 17 Frohawk Hairstyles You Need To Try
Here are the Top 17 Frohawk hairstyles that make a style statement.
1. Frohawk Fade
Faded sides and a big Afro in the middle of your head characterize this sleek style. Short fades should be worn with an afro mohawk or faux hawk for an edgy look. Beard and edge-up designs can be added to your sleek burst fade mohawk for black men.
2. Short Frohawk
To achieve the trendy look of a frohawk with a clean-cut style, choose a shorter version. When you wear a short frohawk, the top of your head hair is kept short. Low skin fade works well with this look. I love the way it looks and feels. It's also very easy to clean and maintain.
3. Frohawk Undercut
It's the perfect hairstyle for making a bold statement with a frohawk undercut. Undercuts, on the other hand, have a uniform length on the sides and back, as opposed to fades. The undercut haircut, buzzed short with clippers, creates a high-contrast look that compliments the faux hawk on top.
4. Frohawk Dreads
Long hair styled in faux hawk fashion with frohawk dreads can be a great way to achieve this look. Flowing dreadlocks will be highlighted by the sidecut, which will help to make the style stand out from the crowd. To make an even bigger statement, try frohawk dread styles with an undercut!
5. Long Frohawk
If you have a large afro, a long frohawk may be a good choice for you to experiment with. If you want to stand out from the crowd, opt for a long afro faux hawk with short sides and back.
Keeping the cut and styling the longer hair on top can be a challenge with the long mohawk haircut. If you're looking for men's hairstyles that are easy to get and style, consider the afro hawk.
6. Frohawk Braids
These braids can be worn in a variety of ways and look great on almost any man when they run down the nape. A variety of braided hairstyles are available, including hair twists and box braids, which can be worn in many different ways.
On top of a temp fade on the sides, you can rock this black hairstyle. If you're ready to take on the world, just tuck your plaits in and you're ready to go. This hairstyle is also popular among women and is straight out of the trends.
7. Curly Frohawk
To achieve a unique, textured look, black men with curly hair can try the frohawk. Cut your sides and back to a fade for the perfect curly mohawk!
Afro-style curls will add volume and height to your hair, so grow them long and thick and then comb them out.
This style of hairstyle does not require a thick mane of hair to be curly, however. With a mohawk fade, full beard, and shaved line part, kinky hair and tight curls look great. Long, medium, or short curly hairstyles are all equally masculine and attractive.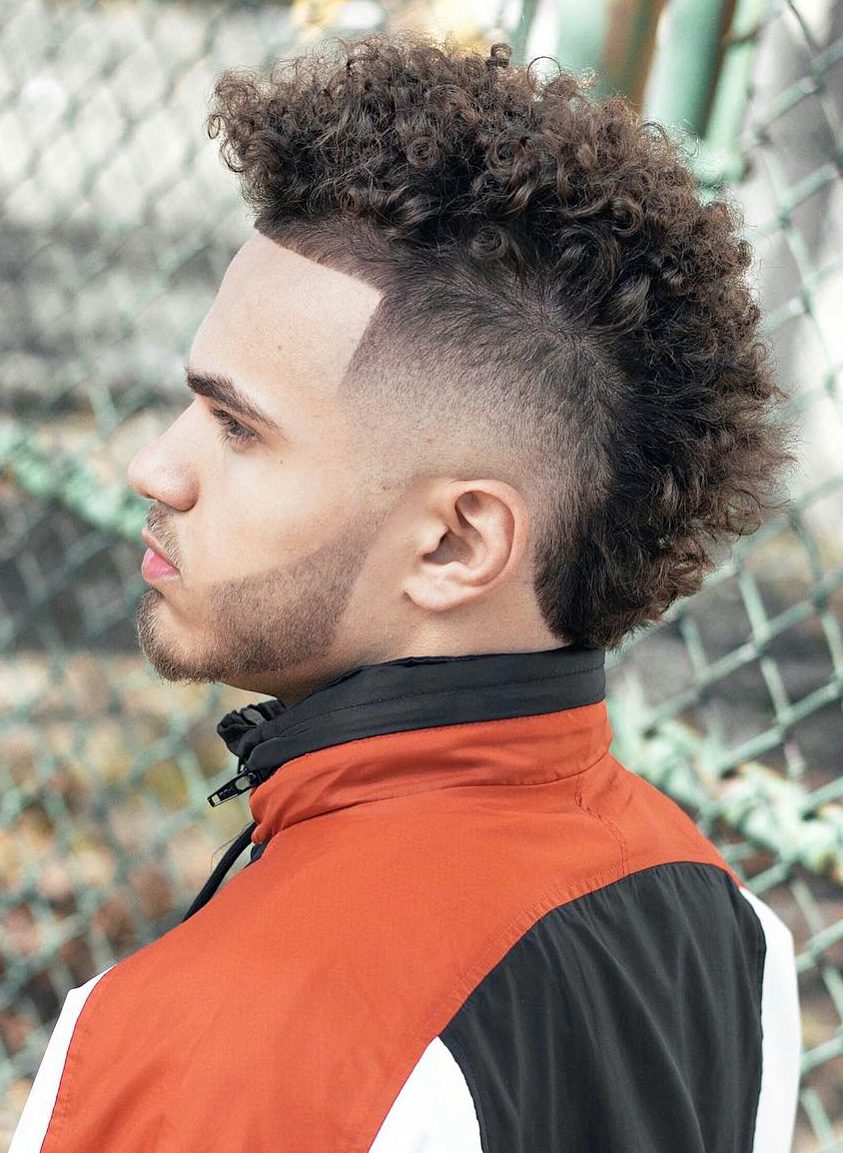 8. Faux Frohawk
Men who want to keep a little length on the sides should consider the faux frohawk. As opposed to a shaved side, the faux-frohawk hairstyle combines a taper fade haircut with short, medium, or long hair on top of the hairstyle. The fake frohawk is a stylish alternative to the classic mohawk for men.
9. Burst Fade Frohawk
It combines several cool haircuts into one. a burst fade haircut has tapered sides and a curving neckline.
A high, mid, or low fade or a skin burst fade will determine how much of your scalp is visible.
On top of an Afro mohawk fade, this style sports a frohawk. Talk to your barber about this cut if you're a boy or a man who wants a daring hairstyle.
10. Flat Top Frohawk
Two of the 80s' coolest black men's haircuts – the mohawk and flat top – are combined in this style. The flat high-top mohawk has a burst fade that wraps around the sides and drops in the back.
This hairstyle adds some edges to your look. So, if you have a round or oval face you can pull the style off to define your looks further.
11. Blonde Frohawk
Think about dying your black hair blonde to get a mohawk if you already have a frohawk. Blonde-haired black men have a distinct style and are often seen wearing coloured hair to complete their looks.
Hair colour ideas for black men range from platinum blonde to red highlights.
Ask for a burst fade mohawk and dye your hair on top to get Odell Beckham Jr.'s hairstyle. If you want to stand out from the crowd, choose this option.
12. Frohawk With Designs
The frohawk can be styled in many different ways on top, but it can also be adorned on the sides with a variety of designs.
Your barber can also create unique designs in the sides and back of your fade by shaving lines or zig-zags.
Your barber can then have a little fun by shaving in a design that he or she is most proficient at shaving in.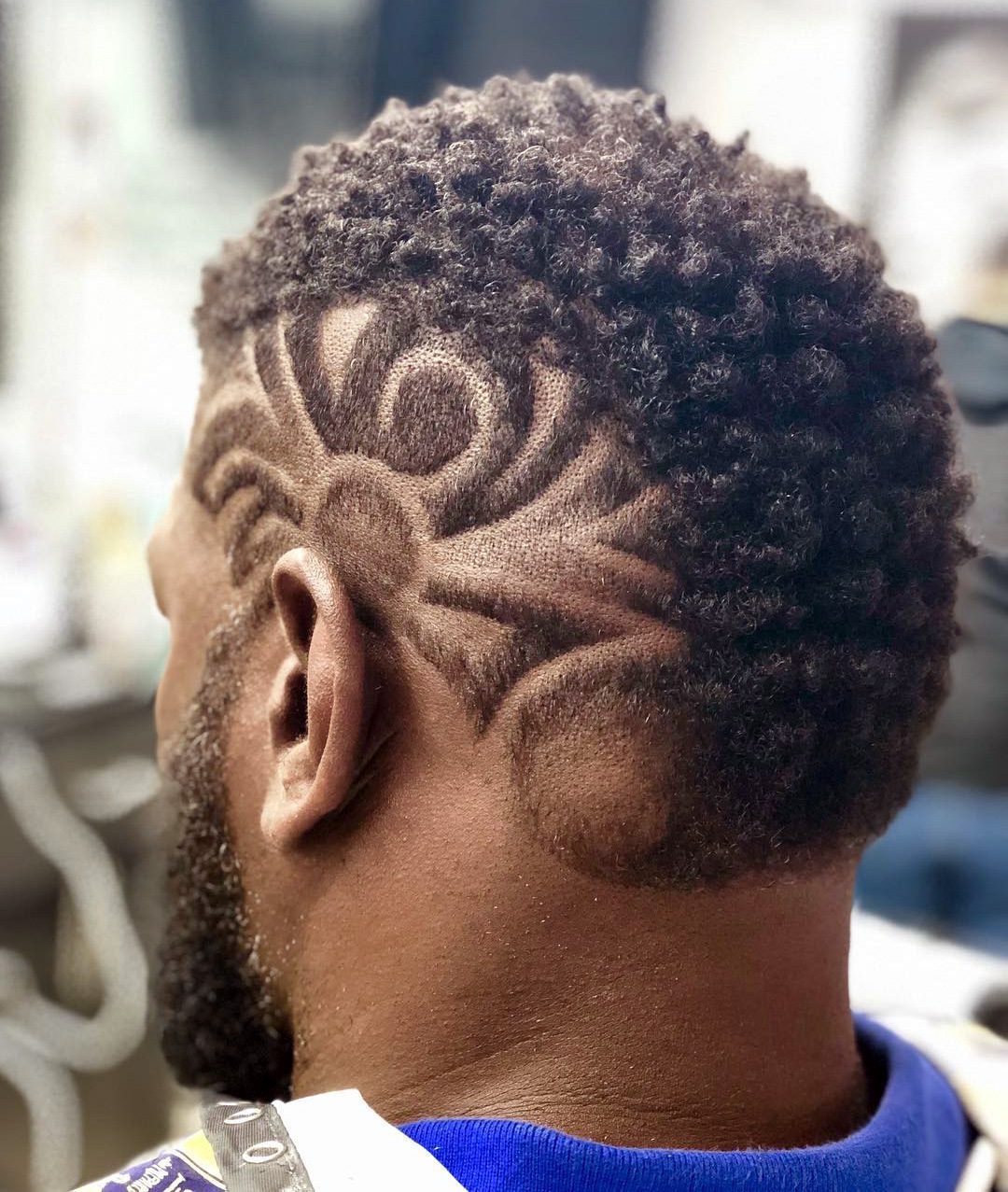 13. High Bald Fade Frohawk
African machismo can be seen in its true form here. Mohawks can be intimidating, but the accessories like bull rings and studs give you a tough exterior.
There are many bikers and tough men who enjoy high-adrenaline sports who frequent this area of the country. This look is perfect for the tough guy.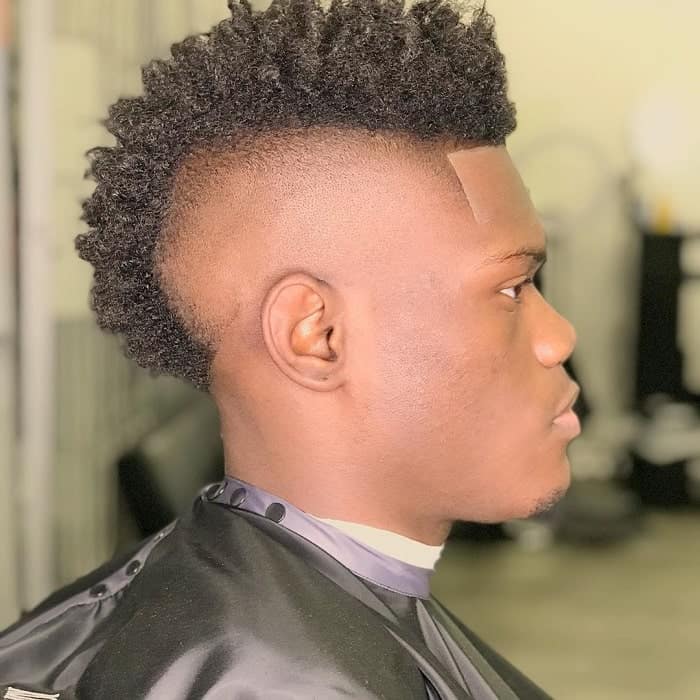 14. Disconnected Frohawk
This Mohawk's sideline demarcation makes it stand out from the crowd. On both sides, the line runs from the face to the back of the head. As a result, there is a clear distinction between the fade and the crown of the hair.
You can still look professional even if you have Afro hair. In the end, you'll gain respect wherever you go if you do the right things.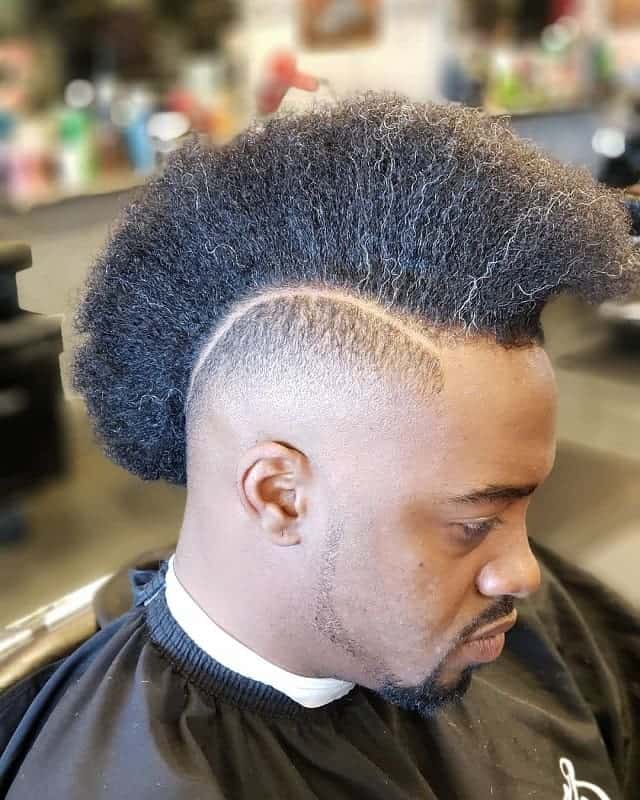 15. Mullet Frohawk
Mohawk and well-maintained Afro curls combine to create this look. There are distinct patterns on the hawk's sides. This look gives you a unique personality and helps you stand out.
For the young, rich, and vibrant, the Afro Mohawk is a mark of elegance. Take a look if you want to express your feelings with elegance.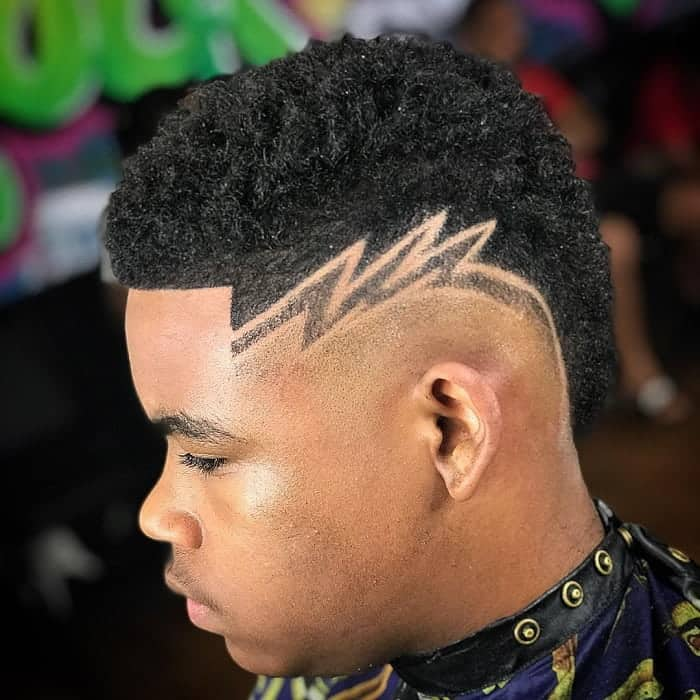 16. Molded Frohawk
If you compare it to other frohawk hairstyles, this is the one with the tallest hair. Your hair should be long enough to create the Mohawk, usually between three and four inches.
On the top, the long and textured hair creates a nice contrast between the two lengths of hair. You can finish the look with a clean hairline cut.
17. Dyed Frohawk
There are numerous shades that can be paired with afro hair as shades and afros are inseparable. The Turquoise green shade is a new hue and unique to afro Mohawks.
Natural kinks are created on the top of the hair and then to create this hairstyle. It tapers from top to bottom around the ears, ending in a skin fade at the end. A flawlessly styled beard and perfectly finished edges complete the flawless look
Key Takeaways
The Frohawk Styles are the best-suited mohawk hairstyle for afro men. It is because the hair this hairstyle revolves around is perfect for black men. Their hair is naturally thick and has a good volume to them.
The Frohawk is also famous because of the many styling options that you can use to shape your hair uniquely. The Frohawk is low maintenance and highly customizable.
You can add your flare to the hair on the sides like shaved sides. Generally, the hair on the sides is given a certain fade, but you can always go with designs and cuts to define your look the way you want it.