When we are in love, we like to keep things interesting and exciting by trying out new things. One of them is hickeys on your partner. Now the reason for a hickey, also popularly known as a love bite, are numerous and vary from person to person.
Some enjoy leaving a mark on their partner's body as a sign of belonging, just knowing that this person is mine, whereas some might intend to show off to the world to back off from the partner because they are already taken. Some might leave a hickey on their partner just for fun purposes and try a few wild things.
Here are the 5 best places to give a girl a hickey:
1. On The Neck
The neck is the most common place a girl usually gets a hickey. To a lot of people, the neck seems the only part of the body that they feel a hickey can be given to a girl, and there a few reasons for it.
The neck is one of the most sensitive and erotic places for a girl to have a hickey. It is easily accessible during romance and making out since it isn't that intimate as well. The neck has a great surface to leave a hickey there on a girl.
If you feel like you want to flaunt to the world that "she is mine," then you can go for it. But the only downside to having a hickey on the girl's neck is that it is visible and can be hidden with scarves or high neck tops easily.
2. On The Cleavage
Now, if you feel like you want to make the hickey more intimate and private on a girl, then the cleavage could be a good place to leave a hickey. You can go for the area a little above the cleavage if you feel like it would be too intimate to leave a hickey on a girl right there.
You can leave the hickey on a girl above the breast area if you both are completely comfortable with it.The good thing about hickey on in the cleavage is that it can easily be hidden with clothes. It would remain a secret between just the two of you as a sign of a little fun and intimacy for you two.
3. On The Stomach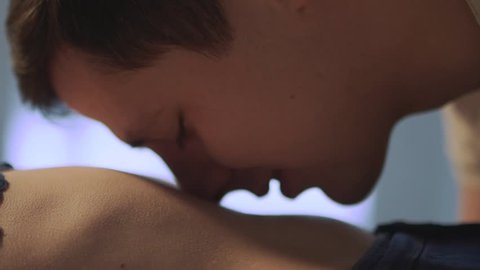 You can spice things up a bit more by making it more intimate and leave a hickey on the girl's stomach. It can be the most intimate area possible, so you have to make sure both of you are okay with it.
You need to ask your girl if she is okay with a hickey on her stomach before you go for it. The good thing about a hickey on the stomach is that it won't hurt even the slightest because the body fat is the highest in the stomach area.
A girl can easily cover up a hickey on the stomach with, well, clothes! If she truly has to hide it, she needs to make sure she does not opt for crop tops or low waisted jeans, which might reveal the hickey.
4. On The Back
Let us get it straight at the very beginning. By back, we mean the area around your spine and below the back of your neck and not your ass! The back area is usually underestimated when it comes to romance, even though it is so sensitive and erotic.
You can give a hickey to the girl on the tip of the back of her neck or her shoulder bones, or her along her spine. You can leave a hickey anywhere along these lines, and it is bound to be the most intimate and seductive thing both of you do for a long time.
The girl might not be able to see or access the hickey on her back, so to hide it, and she might want to opt for clothes that do not reveal her back unless she wants to flaunt the hickey on her back.
5. On The Cheeks
Who would have thought you could leave a hickey on the cheek? Well, you can! Hickey on the cheek is the most innocent, sweet, and at the same time, bold hickey out of the rest. A hickey on the girl's cheeks is so sweet and innocent because it is a love bite on the cheek.
At the same time, it is very bold because it is visible to everyone unless you are good at makeup and know how to hide it. The good thing is because of how uncommon cheeks are for a hickey, you can easily tell people it is a mosquito bite, and they might even believe you.
Though it might even come across as a bruise or the fact that you have been hit, in that case, it is just ironic as a love bite mistaken to be a bruise is just silently comical. No matter where you want to leave a hickey on a girl, it is yours and the girl's decision, irrespective of what others say because it has become the hobby of this new generation to label everything as "cringe."
So go ahead and create mischievous moments with your girl by sneaking a hickey once in a while.