Coffee is a staple drink all over the world. According to the latest coffee statistics from the International Coffee Organisation, about a whopping 1.4 billion cups of coffee are poured every day worldwide. And about 45 percent of that is consumed in the USA. Hence we do understand the importance of coffee.
As coffee comes from various regions, its taste and purity vary. Also, there can be different ways to make coffee and the types of ingredients you can add. And hence, there are many different coffee and unique recipes and styles of making coffee, varying from coffee shop to coffee shop. So, let's dive deep into our morning go-to coffee drink.
Coffee beans
Coffee is made from coffee beans. There are many types of coffee beans, but some are hard to find in abundance. The most common varieties of coffee beans are Arabica and Robusta. All types of beans brew coffee that tastes very different than the other. There is something for everyone.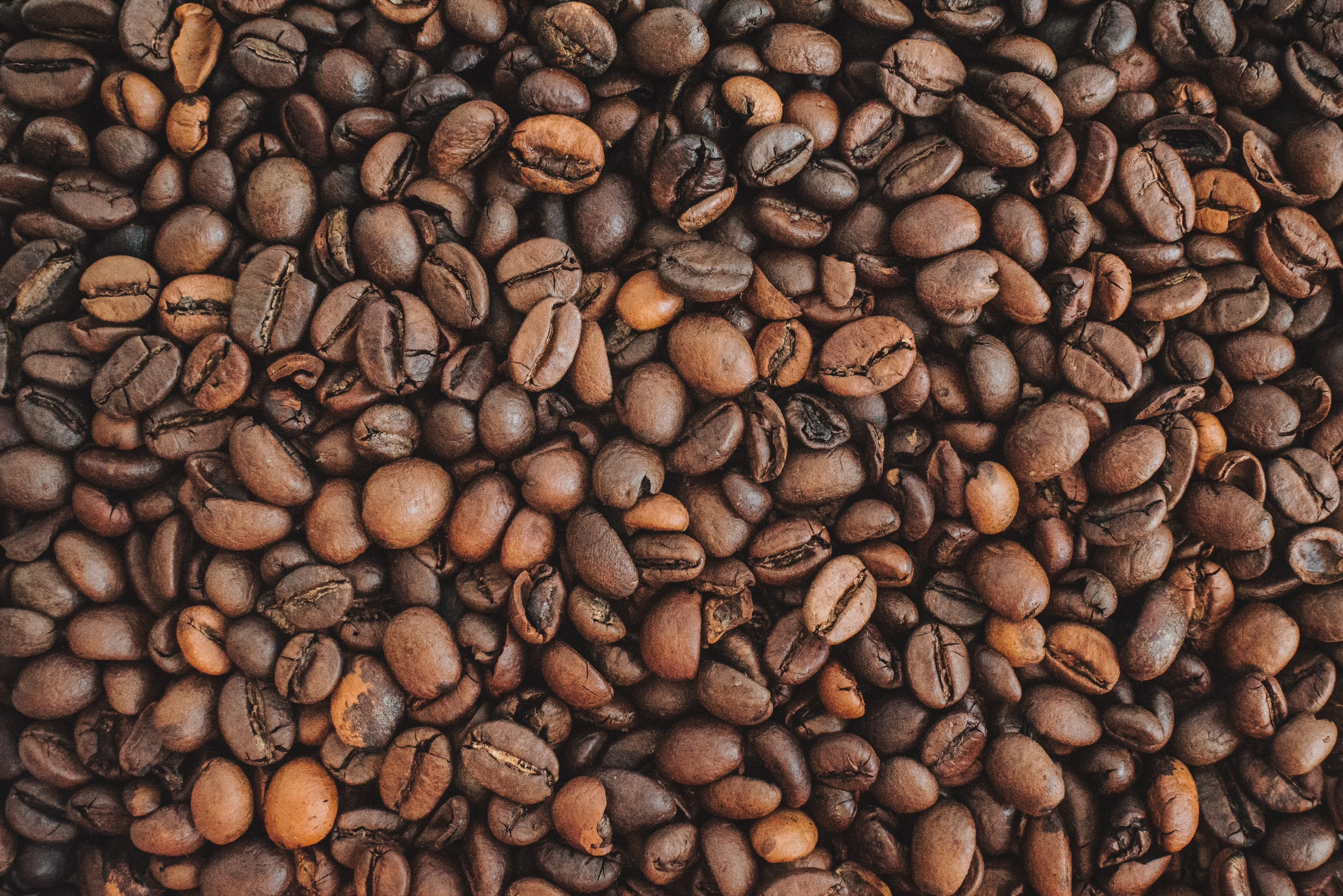 Arabica
The most popular type of coffee is hands down, Arabica. Black coffee enthusiasts will always choose Arabica due to its taste. Arabica beans have a sweeter and more complex flavor that one can drink straight. However, one thing to note is that caffeine levels are lower in Arabica than in Robusta.
Robusta
Robusta is the cheaper yet stronger alternative to Arabica. As it's primarily bitter, one can typically see Robusta used in instant coffee mixes and expresso drinks. So, if you have a lagging mood, you are just a Robusta beans cup of coffee away. The high caffeine level will fix you up in a snap.
Different types of coffee drinks
It's not just a flat white and a long back. More coffee types need to be explored. It is actually crazy what all you can do with just some coffee beans. The numbers are huge!
Here we have some of the most popular types of coffee explained. Even if you are a coffee connoisseur or a newbie, you would want to try them all.
Black
Ground coffee beans steeped in hot water and viola, Black coffee is ready to be served. As simple as it sounds, it has a fancy name which is Cafe noir. It is not doctored up with sugar or milk to maintain its quality. Black coffee is preferred by many people and is one of the popular ones.
Espresso
Espresso is also known as a short black. Espresso is the foundation of most coffee drinks, like macchiatos and lattes. It is basically a highly concentrated shot filtered by dark roasted finely ground coffee beans.
Lungo
A lungo is also a similar kind of coffee drink. It is a type of espresso. The caffeine level depends on the pull, and Lungo is a long pull espresso.
Ristretto
Ristretto is also an espresso shot. The amount of hot water used is lesser in Ristretto. This helps create a sweet flavor compared to the traditional espresso.
Doppio
Doppio can be listed as double espresso at some places. Doppio is also a kind of espresso. Double shots of espresso create a doppio, as the name itself suggests. This helps put an extra pep in your step. So, a double shot of espresso in a cup and directly served is called a Doppio.
Americano
Americano consists of an espresso shot diluted in hot water. The taste is pretty similar to that of black coffee. The espresso shot needs to be added first, and then water is put to increase the essence.
The Americano was invented at the time of world war when the soldiers diluted the coffee due to the quantity of ration available then.
Latte
latte is just the Italian for milk. One shot of espresso, with steamed milk, poured over creates Latte. A small amount of milk foam is added the create art or design for the top of the latte.
Cappuccino
A cappuccino is made by pouring an espresso shot into a cup and then adding steamed milk and foam in equal proportions. It has a delicious, creamy taste which makes it highly to resist. One can add ground chocolate on top of the foam. During winters, the cappuccinos are topped with cinnamon powder or nutmeg.
The ratio should be 1 or 2 shots of espresso with an equal amount of steamed milk and foam, along with a mandatory chocolate powder sprinkle.
Mocha
Mocha is a love child of cappuccino and hot chocolate. Mocha is made by adding a shot of espresso with a small part of hot chocolate, which is topped with milk foam and steamed milk. One can always sprinkle chocolate syrup or powder on top. You can also add whipped cream.
Hot chocolate is silky and smooth, while combined with the bitterness of espresso and sweetness of steamed milk, you just created the perfect blend of Mocha.
Cortado
Cortado is found mostly in Spain, Portugal, and Cuba. Cortado is Spanish for cut, which means diluting here.
Cortado is made with one shot of espresso mixed roughly with an equal amount of steamed milk. The steamed milk is not texturized or frothy, which makes it different from many Italian beverages.
Flat White
Add a lot more steamed milk on top of a cortado, and boom, you got Flat white. The perfect way is to add espresso into a cup, adding steamed milk over it without milk foam or any toppings.
Macchiato
The origin of the name Macchiato is quite interesting. It came from baristas needing to show the waiters the difference between an espresso and an espresso with a little steamed milk.
Macchiato in Italian means spotted or stained. And that is what we are exactly doing; we are staining the espresso with a little milk foam. It can be a single espresso with a dollop of steamed milk foam, or it can be a doppio (double espresso) with a dollop of milk foam.
Con Panna
The word Panna is Italian for cream, so Con Panna means espresso with whipped cream. It has different names in different countries like it is called Café Vienne in the USA. In France and the United Kingdom, it is called Viennois.
Con Panna is a more old-fashioned way of having coffee than going for a cappuccino or latte. To recreate Con Panna, extract one or two espresso shots into a cup and then add the same ratio of whipped cream on the top.
Red Eye
Red-eye is a drink that consists of brewed coffee which is topped with a shot of espresso. Red-eye usually contained one shot of espresso, and Black Eye contained two shots of espresso. But now, two shots is the standard Red eye.
The name Red-eye comes from its ability to cure any tiresome morning after midnight flights or sleepless nights. Red-eye is exactly what you need to roll right on past a sleepless night into the next day.
Galão
Galao is a hot coffee drink that is similar to a cappuccino and a latte. Galão contains about twice as much foamed milk, making it a lighter drink than the other two.
Galão originates from Portugal and is like a cortado but with a much larger amount of milk, which makes it closer to a latte in proportions.
Café Au Lait
Café Au Lait originates in France. In French, Café Au Lait means coffee with hot milk added. It is perfect for a coffee minimalist who wants a little bit more flavor.
Take brewed coffee in a cup. Add a splash of warm steamed milk over it, and you have got Café Au Lait.
Affogato
Do you sometimes crave ice cream but also want coffee. Affogato is kind of a dessert coffee served best in summer. It is usually ordered after dinner as a cold combination of espresso and ice cream. It is meant to be enjoyed with a spoon before everything melts.
Affogato means drowned in Italian. The idea here is to drown a scoop of vanilla ice cream with a single or double shot of espresso. There can be other variations, like including a shot of liqueur, and it can also be enjoyed by using different flavors of ice cream, though a scoop of vanilla ice cream is preferred.
Irish coffee
Irish coffee is not a type of coffee you can order during your lunch break at work. This is because it contains espresso with whiskey and cream. It is more of a delightful cocktail than a coffee beverage.
There are many variations of Irish coffee. Although the traditional way is adding Irish whiskey and at least one teaspoon of black sugar over black coffee and it is stirred in until fully dissolved. Thick whipped cream is carefully poured over this.
Ice Coffee Variety
Coffee can also be enjoyed as a cold refreshing summertime drink and not necessarily a hot cup beverage. There can be colder types of coffee drinks too. Here are some of the best iced coffee drinks you will totally enjoy.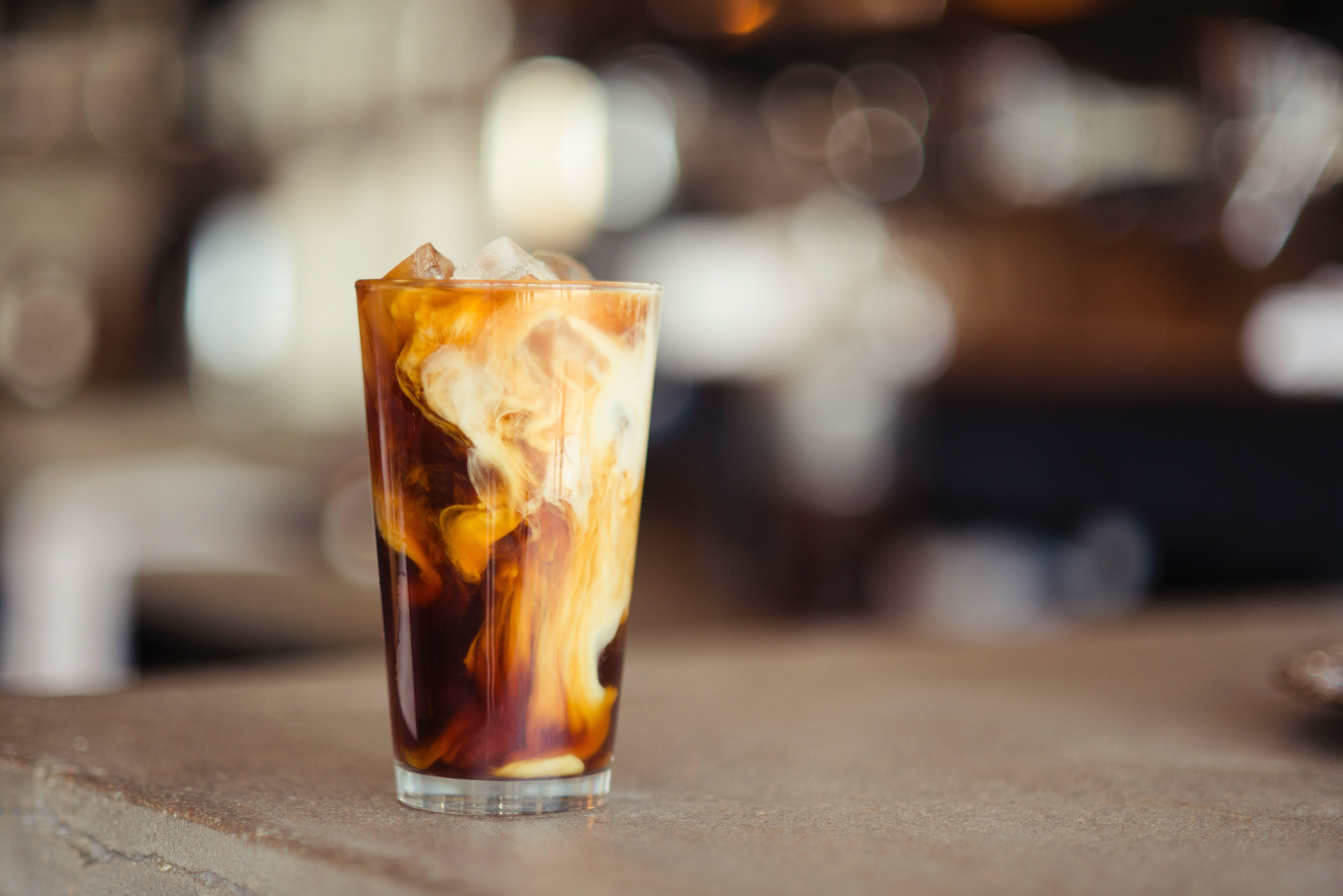 Iced Coffee
Typical iced coffee is a simple service consisting of a dash of milk, cream, or any sweetener on top of the coffee. That's it, sweet and simple iced coffee.
Iced Espresso
As an iced coffee, Iced espresso can also be served with a dash of milk, cream, or any sweetener over a single shot of espresso. So this way, you can ice specialty any espresso-based drinks like a flat white, mocha, americano, and latte.
Cold Brew
The most trending is cold brew coffee. Cold-brew is prepared by steeping coffee beans from anywhere between 6 to 36 hours, depending on how strong you would like your brew. Once steeping is done, cold milk or cream is added. This makes it a go-to drink for strong and cold coffee lovers.
Frappuccino
Frappuccino is basically an iced coffee drink that is topped with whipped cream and chocolate syrup. It is made famous by Starbucks, and frappes are also available in coffee-free versions.
Nitro
As the name suggests, Nitro is a cold brew mixed with nitro bubbles via a nitro tap. This creates a cold coffee with a frothy, Guinness-like consistency.
Mazagran
Mazagran is a crazy mixture of everything you love. Take iced coffee, mix it with tea and your favorite rum, and that's Mazagran. It typically consists of espresso, sugar, lemon, and rum.
Recommended: How To Wear & Style A Double Breasted Suit
The Making of Coffee
After knowing all the different types of coffee drinks and beans, let us learn different brewing styles, which can cause changes in the flavor and strength of the drink. There are plenty of ways to prepare your dream coffee cup. We have explored them here.
Drip Brew
Ground coffee is added to a brew basket for this brewing style and placed in an automatic coffee machine. Gravity passes water through the ground coffee, which drips and collected in a cup. This results in a traditional cup of coffee.
Pour Over
This brewing style always results in a potent brew. In a filter basket, coffee grounds are put. And boiling water is slowly poured through it. The coffee then drips in a single strong cup.
Cold-brew
In this style, coarsely ground coffee is placed in room temperature water and is allowed to steep for an extended period of time. This results in a highly caffeinated and bitter brew.
Espresso
An espresso or cappuccino machine is required for this brewing style. These machines pass pressurized hot water through a filter that contains dark roasted finely ground coffee beans. The water pushed through this filter creates a highly concentrated coffee shot. This method is used to produce the base of coffee drinks.
Ristretto
The ristretto method is similar to espresso. The difference is in the amount of water passed. Pressurized water is passed through the coffee grounds. The amount of water used is half of what is used for espresso. This shorter brewing cycle creates a darker and more concentrated shot of espresso.
Takeaway
Many of us cannot imagine starting our day without a fine cup of coffee. Coffee has become a need. Coffee is one of the most consumed beverages around the globe. Its high level of antioxidants and beneficial nutrients has made it quite popular.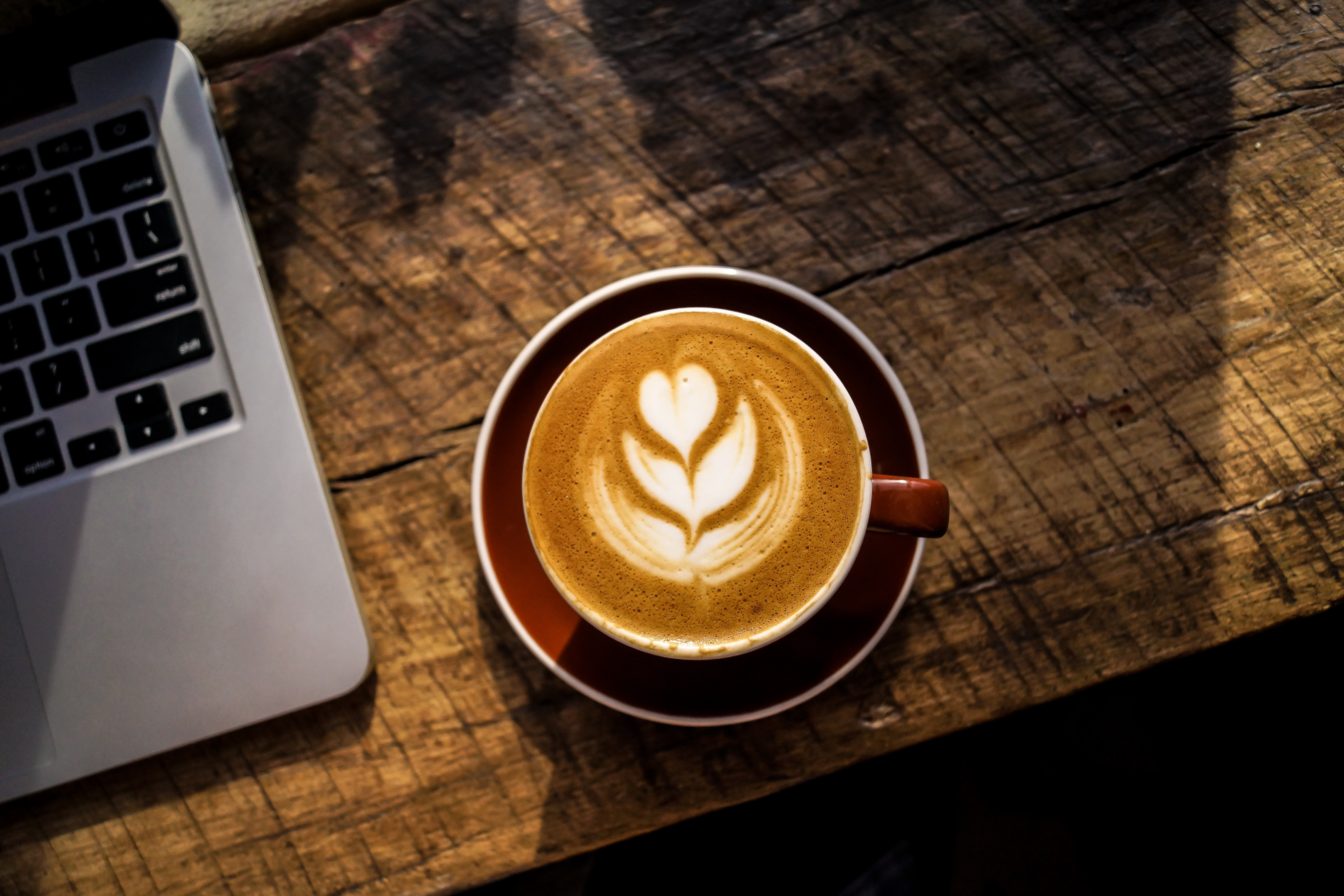 There are also types of coffee-making machines which help to brew popular coffee drinks. French press, Percolator, Single-serve, AeroPress, Drip, Pour over, Cold brew, and Moka is coffee-making machines and styles.
So you just mastered the coffee lingo! After knowing all about coffee, you are ready to order the perfect brew which you prefer. Or you can always try all of the coffees from any coffee shop, a new experience, and stimulation every single day!
Referrence: https://en.wikipedia.org/wiki/Coffee