When we are hosting a party, we keep in mind every detail of it. From the drinks' location to the people invited and even the music, we often forget the whiskey drinking games. 
There are so many insanely fun games you can play with your drinks at a party. It acts as an ice breaker for everyone and gets you drunk significantly faster, while if you do not want to get drunk, you have to focus on playing the game better than everyone else. 
Whether it is icebreaking or just a fun get-together with your friends, these games will spice up your night and give you lots of great memories and a hangover the next morning. So what are you waiting for? Open up the bottle of jack, and we'll provide you with some of the best drinking games to play with Whiskey. 
The Best Games to Play with Whisky!
1. How cool is
"Most likely to"

?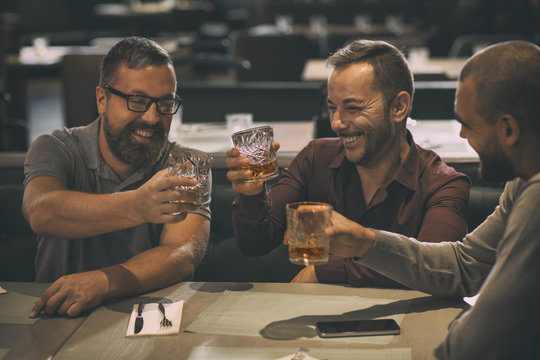 One of the simplest and the easiest ways to get drunk at a party is to play this game. Everyone sits together, and one by one asks a "most likely" question and on the count of three everyone points at the person they think is most likely to do that, and then they drink.
For example, a person goes "who is most likely to pass out before the party ends?" and everyone points at the person who is most likely to do so and that person has to take a shot, a sip or chug down their drink whatever is decided according to everyone in the party.
2. Get to know each other with
"Never have I Ever"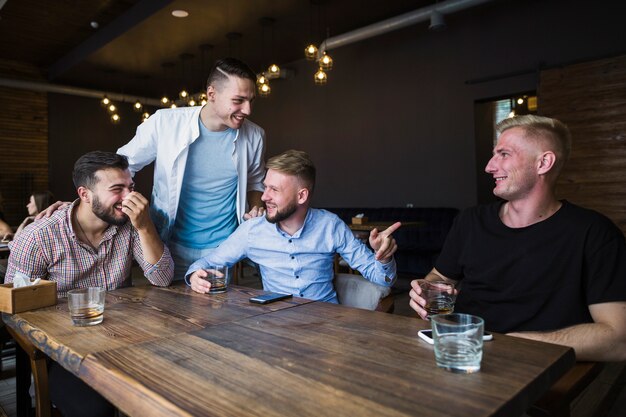 Easy-peasy fun games like these are probably the best choice to start with when looking for a drinking game. The rules are pretty simple; everyone sits together with their drinks in their hand, one person says a phrase that starts with "never have I ever", if any person has done that thing they take a sip of their drink, if not then you wait. 
For example, if it is someone's turn and they say "never have I have ever been arrested", and everyone who has been arrested takes a sip now you can make questions as juicy and scandalous as you want and watch people "sip" away from their secrets.
3. Engage in Playing
"Cheers Governor"
This game is an excellent choice for a large group to play in. The whole group gathers around a table and stands in a circle for this game. One after the other player needs to count from 1 to 20; the first player says '1' the second player goes '2' and so on till 20.
But number 7 and 14 are exchanged. After six, it means the player will say '14' instead of '7' and the person after 13 will say '7' instead of '14'. On the note someone messes up, which they definitely will, they drink. Each time the group reaches the number 20, everyone toasts and says "Cheers Governor". 
The person who says the number 20 creates a new rule for a number. For example, the person on 20 can create a rule like a person who says the number 12 will have to gulp a shot instead of telling the number. 
Throughout the duration, it is common to mess up and drink up, and because of that, they will keep getting drunker. It makes this game ton of fun to play with your friends at a party. 
4. Get the Tricks right with
"Of Course"
This is an entertaining game and one that I like the most, not very tricky. It is usually done between two people to divide yourself into two teams, just like in beer pong. You sit face to face with a player from the other team and try to say the ridiculous thing about them that could be true or false. 
The twist is that they can only reply with of course if they laugh or break character or reply with anything else or try to give any explanation they lose, which means you drink. 
For example, you sit in front of a person and say something like "I heard you inspire to be a paedophile shortly" and if they react or break character or don't answer with an "of course", they lose, and they take a shot. Each player goes one by one and tries to get the other player drunk before themselves. 
5.
"Arrogance"

to know each Other!
As the name suggests, this game is all about arrogance, about how much you can drink. All you need for this game is lots of Whiskey, your friends, drinking capacity and superiority. 
To play this game, you bet your sobriety on a specific amount of alcohol and then flip a coin on that to decide your fate. If you win, you have a reason to boast off that arrogance, but if you lose you have to chug down that amount of alcohol since this game is all about putting your money where your mouth is. 
While playing this game, you should be aware of your drinking limits and not blindly bet on any alcohol amount while in the mood for partying.
6.
"Jenga"

being the Most Popular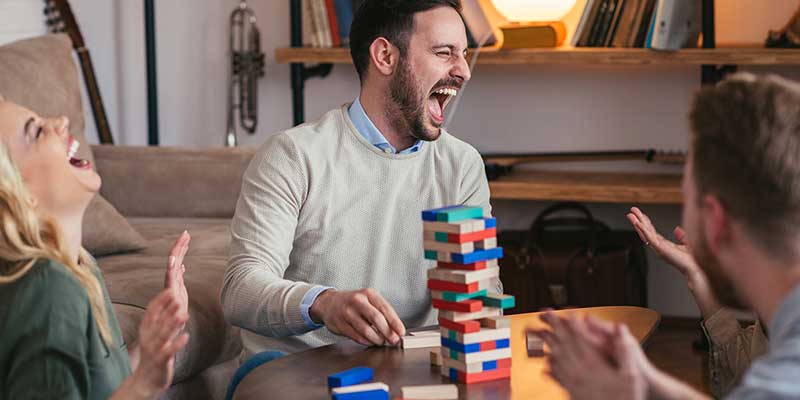 There are so many ways to play Jenga, and the best one is drunk Jenga. There are two ways to go about playing drunk Jenga. First one is to get drunk enough before you start playing a regular game of Jenga. This might sound boring, but being tipsy and being with your friends makes everything way more fun than it already is. 
The second way is to play dare Jenga. You can easily buy a Jenga pack with several dares written on them, but if you want to make this game a little more personalized, what you can do is write a number on every Jenga piece and write an equal number of dares on a paper. Every time a person draws a Jenga piece, they have to do the dare written in front of the number of the amount they have removed. 
No, the twist comes that if you don't want to do the dare or cannot complete the dare, you will have to drink. 
So what are you waiting for, grab your bottles and get ready to party hard with your friends while playing these insanely fun games, but do not forget to drink responsibly among all the fun? 
Let us know which games you love to play and why? We are waiting for you to get out with crazy ideas.