Multani Mitti is an ancient ingredient passed down generations in India as a rescue for all kinds of skin problems. It helps to turn the skin softer, making it glow; it helps to remove tan and lighten the complexion. Multani Mitti is also helpful in treating acne, pimple, and scars and preventing further breakouts of the skin. Here we tell you a few Multani mitti face packs which will help you to take better care of your skin.
Multani Mitti Facepacks to make your Skin Glow!
1. Multani Mitti and Turmeric Powder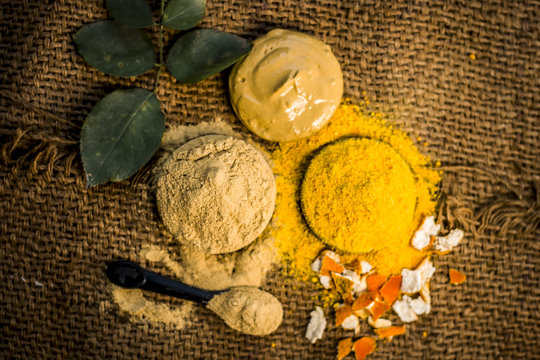 Along with Multani mitti, turmeric powder, also known as haldi, is quite famous for being beneficial for the skin since the ancient ages in India.
You can mix Multani mitti with a spoonful of turmeric powder in a bowl and form a thick paste by combining both of them with water.
You can even take the help of a brush to apply the Multani mitti face pack to your skin if you want to avoid getting all messy.
This fusion of Multani mitti and turmeric will leave your skin feeling soft and glowing. 
You have to be careful about the quantity of turmeric you use along with how long you leave it for, as turmeric is supposed to leave a yellowish stain on your skin.
2. Multani Mitti and Lemon
Lemon is supposed to be considered citrus since it is a citrus fruit that is very beneficial for the skin, especially to remove tan.
If you want to get rid of the tan from excessive sun exposure, you should apply the Multani mitti face pack along with lemon on your face.
This helps in removing the over pigmentation and the extra melanin from your skin.
Melanin is the chemical responsible for turning you darker, which happens due to sun exposure.
Lemon is the ingredient that helps fight the melanin content of your skin, which is also why it is said not to go out directly into the sun after applying lemon to your skin.
You can mix the Multani mitti along with a few drops of lemon and form a face pack. 
3. Multani Mitti and Honey
Honey is famous for being beneficial for the skin as it helps to fight the germs and bacteria from your face.
Since honey is almost silky in texture, it feels very smooth and rejuvenating on the skin.
Applying a face pack of Multani mitti and love to the skin will not only help you keep your skin clean and away from germs and bacteria but also make you feel good.
This combination of face packs turns out to be very smooth, and it is equally easy to apply and take off as well without much trouble. 
It will flush out all the germs due to its antibacterial, antioxidant, and anti-inflammatory properties.
This face pack of Multani mitti and honey will help you avoid any acne or pimple formations and have clear skin.
5. Multani Mitti and Coffee Powder
Coffee is not only beneficial in helping you pull all-nighters and tasting so good. What if we told you it acts as a scrub for our skin as well!
The coarse texture of the coffee powder, along with a Multani mitti face pack, will act as a scrub and exfoliator for your skin.
This face pack will help remove the dead skin cells and replace them with fresh, glowing skin.
This face pack of Multani mitti and coffee powder can be applied twice a week to serve the purpose of a scrub.
Everyday use is not advisable since scrubbing something rough in texture can lead to the skin turning rough instead. 
Mix one spoon of coffee powder with Multani mitti and a few drops of water to form a face pack and leave on till it dries, then rinse it off.
6. Multani Mitti and Besan 
Besan, also known as gram flour, is one of the best ingredients to exist for skincare. Besan can be added to any mixture or ingredient, and it would still be beneficial for the skin.
Mix Multani mitti and besan in a bowl along with water to form a thick paste.
You can squeeze a few drops of lemon, a decrease of honey, or even a spoonful of turmeric into this face pack because besan works wonders for the skin with all these ingredients.
Apply the face pack and leave it for quite some time as it takes a bit longer than the rest to dry.
When your skin starts to tighten or feels almost "vacuumed," that is the correct time to wash off the face pack.
Besan tends to suck the skin in, so it helps to get rid of the pigmentation from the skin in the most efficient way possible. 
These were some of the ingredients you could infuse with the Multani mitti based on your skin problem. Each of these helps to fight acne, pimple, scar, pigmentation, tanning, or make your skin glow. Choose the ingredient that best helps fix your skin problem and get that dream glow on your skin.